Here's what can influence Player Item prices on the Transfer Market:

Rating: The higher a Player is rated, the more expensive their Item may be.
Item rarity: Items that appear less often in Packs tend to cost more.
Pace: Faster Players could cost more FUT Coins.
Nationality/League: Players from the top European leagues may be more expensive. The same applies for certain nationalities, like Brazil, France, and Germany, because of how Chemistry works in FUT.
Squad-Building Challenges (SBCs): If SBCs require certain Players, they will likely cost more.
Limited-time Items and Live Items: These Items could cost more because they're harder to get.
Objectives: If a specific Player is needed to complete an Objective, they may be more expensive.
FUT Items from Packs in the FUT Store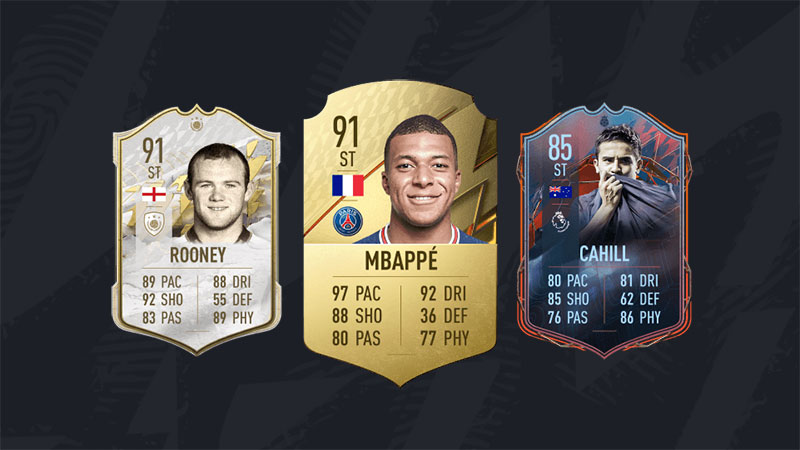 To help you make good investments for your team, the FUT Store lets you check out your chances of getting specific types of Player Items and their minimum ratings (OVR) in every Pack before you commit to one. You'll see Show Pack Probabilities under every Pack in the FUT Store.
How it works:
Player Items are categorized by Quality (Special, Gold, Silver, or Bronze) and rating (OVR).
The percentages (%) that you see show the minimum probability that you'll get one or more Players in the corresponding Item type and OVR range.
In some Packs, the probability of getting special Player categories, such as Ones to Watch, may be less than 1%.
Opening multiple Packs doesn't increase your chances of getting an Item of a certain type or rating. Percentages are calculated on a Pack-by-Pack basis.
Probability numbers may change throughout the Season as live updates and new Items are added to FUT. The timestamp at the bottom of the Show Pack Probabilities screen can give you an idea of the accuracy of the current numbers.
In Form Player Items
In Form Player Items, also called Team of the Week (TOTW), are special versions of Player Items that have better stats than their regular versions. They're available for a short time in Packs throughout the year.
Team of the Week (TOTW)
Each week, FIFA Ultimate Team forms a TOTW with the best Players from international and Club leagues who performed well the previous week. These Players have higher stats and OVR ratings based on their real-world performance over the past week.
TOTW Items are available by chance in Packs, and there's no guarantee that every Pack will have TOTW Items.
For more information on TOTW and other Special Items, check out the Item Guide on ea.com.
What are Consumable Items?
Consumables are Items that can boost, change, or add a feature to Player or Manager Items. They are categorized in tiers: Gold, Silver, and Bronze, which can affect how difficult it is to get them as rewards.
Consumable Items can be:
Contracts: Increase the number of contracts a Player or Manager has.
Positioning: Change a Player's position.
Manager Leagues: Change a Manager's league.
Healing: Decrease the duration of a Player's injuries.
Chemistry Styles: Boost a Player's Attributes based on the Team's Chemistry.
Consumables can be found in Packs, earned as rewards, or bought in the Transfer Market. As long as Consumable Items are marked tradeable, they can be traded on the Transfer Market.