Parties let you and your friends celebrate your Sims' milestones in life. Earn great rewards while your Sims have fun.
What are Parties?
Do I get rewards?
Where do I find them?
How do I throw one?
How do I go to one?
Do I use Energy there?
How can I improve my party?
Can I chat with other Simmers?
When one of your Sims hits a special milestone in life, you can throw them a Party. You can host up to one Party a week.
Want to keep the Party going? Go to up to two Parties a day at other Sims' houses.
Reach player level 6 to unlock Parties.
Fill the star meter to earn personal progress and rewards.
Parties also have a Party meter. Everyone who goes to a Party can help hit progress milestones to earn new tiers of rewards for the whole group.
Open the Parties menu to get celebrating!
Tap the arrow pull-out tab on the right side of the game screen.
Tap the Parties tab (balloons icon).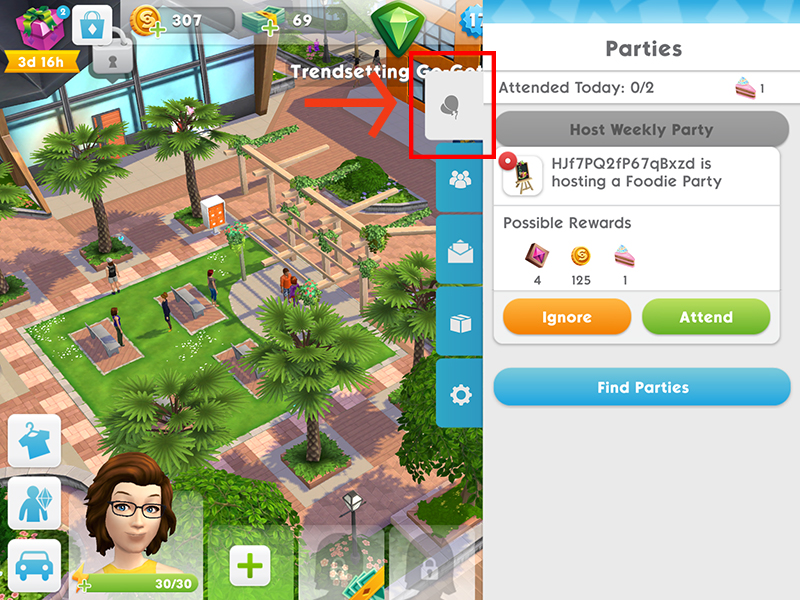 Open the Parties menu and tap Host Weekly Party to get started.
Decorate! Put out Party Decorations for your Sim and guests to interact with.
Tap Chat to talk with other Simmers at the Party.
You can host one Party a week.
Open the Parties menu and tap Find Parties to see what Parties are going on.
Attend up to two other Parties a day.
Tap Attend to join the Party, or tap Ignore to dismiss it.
Tap Return to Party if you left and want to go back.
Tap Chat to talk with other Simmers participating in the party.
When you attend a Party, you get 10 free Party Energy. If you run out of Party Energy, that doesn't mean the fun needs to end. Eat a slice of Party Cake to refill your Party Energy.
Every party needs great decorations. More importantly, the decorations are what you can interact with—aside from other Sims.
Tap the Build/Buy icon.
Tap the Party Decorations tab (party hat).
Tap and drag the decorations to put them in your Sim's house.
Yes! Once you start or join a Party, you can join the Party Chat. If your account is underage this option won't show up.
The Chat option is in the Parties menu.
Still need help?
The best way to reach us about The Sims Mobile is to create a case from within your game.
Was this article helpful?
0% of 0 players found this article helpful.