Enable cross-play in Apex Legends and add friends.
Apex Legends now lets you squad up with friends on PC, PlayStation, Xbox, and Nintendo Switch.
After you enable cross-play, you can now team up with friends on all platforms where Apex Legends is available.
Go to the Friends menu.
Click Find Friend.
Type in their EA Public ID. You can also go to your Privacy Settings and change how players can search you by going to Allow users to search for me by and checking:

Email address
PSN™ Online ID for PlayStation 4 and 5
Xbox Live® gamertag for Xbox One and X|S
Nintendo Nickname for Nintendo Switch
Your friend will get an invite where they can accept, reject, or block your request. Once they accept your request, you can play together like normal.
When you're in the friends menu, you can also see what platform each of your friends is playing on based on the icon next to their name.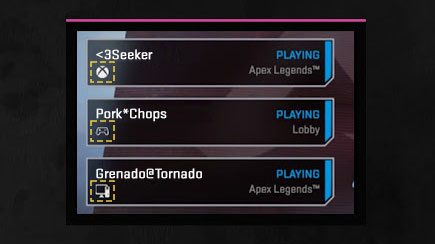 Cross-play for Apex Legends is supported on the following platforms:
The EA app
Steam
PlayStation
Xbox
Nintendo Switch
Apex Legends doesn't support cross-progression or cross-platform play for different consoles. You won't be able to carry over your own achievements, progress, and more to other systems if you play on more than one platform.
For example, if you play Apex Legends on Xbox One and PC, your progress won't carry over between the two accounts.
This helps us keep Ranked play balanced, since different platforms have different advantages, and the Apex Predator rank is grouped by platform.
Steam
Only players on Steam and the EA app have cross-progression, since these are PC platforms.

When you first launch Apex Legends on Steam, we'll ask you to link your EA Account. Make sure this is the correct account you want to link to. Otherwise your progress won't carry over, and you may not be able to unlink your EA Account.

If you disable cross-play, you'll only be able to group up with other players who disabled cross-play on the same platform. We don't recommend disabling cross-play as it will greatly increase queue times.
Cross-play should automatically be turned on. If you play on PlayStation, Xbox, or Nintendo Switch and you want to turn it off or on, follow these steps.
Go to the lobby.
Click the cogwheel (Game Menu) in the bottom right corner of the screen.
Click Settings.
Scroll down to Cross Platform Play.
Click Enabled to turn it on, and Disabled to turn it off.
Contact Us
Was this article helpful?
0% of 0 players found this article helpful.