Consider Team OVR
Your Team OVR is the average of ranks, Boosts, and the OVR of the Players on your team. Adding higher-rated Players will improve your team's chances to win.
The Highest OVR button swaps your lower-rated Players with the highest OVR reserve Players, giving you the best chance of success.
Get new Players
Earn new Players by opening Packs in the Store and completing Campaigns and Events.
You can also buy and sell Players from the Market.
Swap Players
Tap any Player on your lineup to show their attributes, Chemistry, and display your replacement Players.
Drag better Players from your reserve into the starting position to improve your team.
Bring on a pacey winger to threaten your opponent's tired defenders or swap out your exhausted box-to-box midfielder with new substitutions.
Set up to 7 subs in your My Team. You can also toggle the Suggested Sub option to get automatic subs suggestions during your match.


A timer will begin in the top-right corner with the suggested sub, which you can cancel if you don't want to make the change.
Make on-the-fly substitutions by pulling up the Substitutes menu. Set your bench of 7 subs before kickoff, and make up to 3 subs during a match
Change your Players' positions
By using the same in-game substitution menu, move Players to different positions within your formation.
For example, bring your towering center back up to striker for a final stoppage time goal push. You can move all Players around your formation, except goalkeepers.
Choose your Set Piece Takers and Captain
Choose the right Players to take your set pieces and take full advantage of any dead ball situation. In the My Team menu, choose your set piece takers and your Captain.
You can choose the following:
Penalty Taker
Short Free Kick
Long Free Kick
Left Corner Taker
Right Corner Taker
Captain
Set Piece Takers and Captain choices will affect VS Attack, Head to Head, League Tournaments, and AI Matches. These choices do not affect players that participate in various Skill Games.
Compare attributes
Drag and hold a Player over the Drag & Drop slot to compare the attributes of two Players.
Green attributes indicate the reserve Player is better in an area.
Red attributes indicate the reserve Player is worse.
Attributes can make a big difference in how you play, so keep an eye out for the attributes you value the most.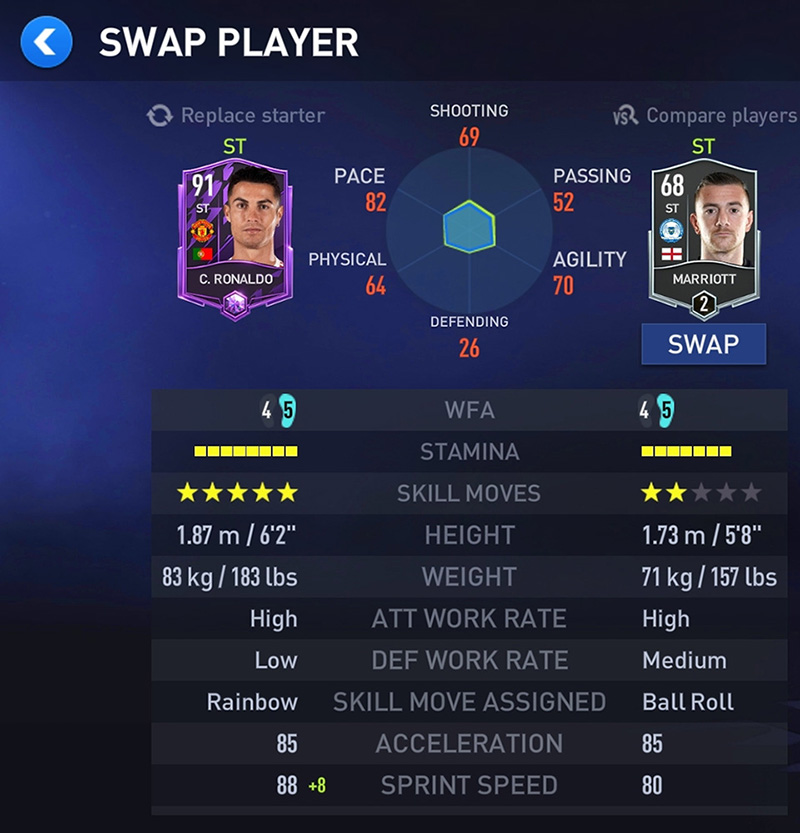 Choose the best formations
Change your team's formation inside the My Team screen. The active formation determines the positions of your starting 11. Each formation has a unique set of playstyles, so try them all to see which one suits your team.
Formations also impact your Boosts. If you don't have the right Players, Boosts won't work to their full potential.
How do I unlock formations? You'll unlock more formations as you Level Up.