Save your game to stay on the pitch. Linking FIFA Mobile to Google Play (Android), Game Center (iOS), or Facebook is a guaranteed way to save your progress.
Link your game to an account
Link manually
Why you should save
Play as a Guest
More info
Need help?
Android
Open your Settings menu.
Click Link Accounts.
iOS
Make sure you're signed in to Game Center
Open your phone or tablet's Settings.
Find and tap on Game Center.
Tap Sign in and enter your Apple ID and password.
If you're already signed in, you're ready to connect your game.
Connect your game to Game Center
If you signed in to Game Center on your device, the game should connect automatically. You can check your game settings to be sure.
Tap the arrow pull-out tab on the right side of the game screen.
Tap the Settings cog tab.
If you see the message, "Sign in to Game Center to play on other devices," tap the Connect button.

If you don't see it, you're connected.
Facebook
A tile will pop up the first time you open the game asking if you want to link your account, but you can also link your account from the Options menu.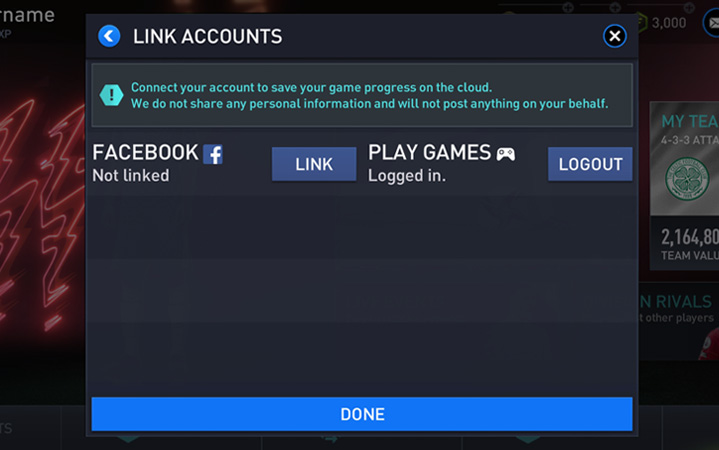 You'll be asked to link your game a limited number of times. If you dismiss the notifications too many times, you'll stop getting them and have to link your game manually. Here's how to do it:
Open FIFA Mobile.
Go to the Settings menu.
Under Account Management, choose Link Accounts.
Click Link next to the option you want to link (like Facebook, Game Center, or Google Play).
You can play on multiple devices. Saving gives you the option to play on a tablet when you need a big screen and play on your phone when you're on-the-go.
Lost your mobile device or bought a new one? Saving lets you bring your progress with you.
Recover your game progress. If you do a factory reset, update your OS, or delete the app, you'll lose your game progress. A linked account keeps your progress, so you can play where you left off.
Without linking to an account, you'll play as a Guest. Guests can only save directly to a phone or tablet.
Why not save directly? It has a few drawbacks:
You can only play your game on the device you created it on. Your game won't move over to different devices.
All game progress will be lost if you factory reset your device, install a major OS update, or delete the app.
Lost game progress is permanent. We can't recover an unsaved game.
The best way to contact us is by creating an in-game ticket. This sends us through details about your account and means we can help you faster.
On the home screen, tap the Settings cogwheel in the top right corner.
Find Customer Service on the list, and tap Visit.
Follow the instructions on-screen to contact us.
If you can't log into the game, we'll ask for your User ID when you contact us, so make sure you have it handy.
Was this article helpful?
0% of 0 players found this article helpful.