Learn how to compete in Apex Legends Ranked League and how you earn different Ranked Points (RP) to level up.
What is Ranked League
Rank Tiers
Entry costs
Earning and losing RP
How does it work
Splits
Can't invite friends
Need help?
Apex Legends Ranked League is a competitive mode that lets you play with other players at a similar skill level.
Over time, you can rank up and play in higher tiers. During Ranked Seasons, you can also earn rewards based on your rank. At the end of each Season and split, your rank will soft reset based on your current tier.
Ranked was recently updated with Saviors, so make sure to read all about it on ea.com.
To level up to a new Rank tier, you'll need a certain amount of Ranking Points (RP).
| | |
| --- | --- |
| Rank | RP needed |
| Bronze | 1,000 RP |
| Silver | 3,000 RP |
| Gold | 5,400 RP |
| Platinum | 8,200 RP |
| Diamond | 11,400 RP |
| Master | 15,00 RP |
| Apex Predator | Top 750 players per platform |
What is the Rookie tier?
The Rookie tier is a one-time introductory tier for new players to learn about Ranked Battle Royale. It doesn't have any rewards tied to it, and you can't get demoted into it with new Seasons or splits.
Each Ranked match costs RP to enter, except for Bronze. As you move up within each tier to a new division (from Silver IV to Silver III, for example) the entry cost will increase.
Bronze
Bronze IV: 15 RP
Bronze III: 18 RP
Bronze II: 21 RP
Bronze I: 24 RP
Silver
Silver IV: 27 RP
Silver III: 30 RP
Silver II: 33 RP
Silver I: 36 RP
Gold
Gold IV: 39 RP
Gold III: 42 RP
Gold II: 45 RP
Gold I: 48 RP
Platinum
Platinum IV: 51 RP
Platinum III: 54 RP
Platinum II: 57 RP
Platinum I: 60 RP
Diamond
Diamond IV: 63 RP
Diamond III: 66 RP
Diamond II: 69 RP
Diamond I: 72 RP
Master and Apex Predator
75 RP, with 5 RP added every 1,000 RP beyond the Master Threshold. This will cap at 175 RP.
You can also see this info at any point in-game in the Ranked Leagues section.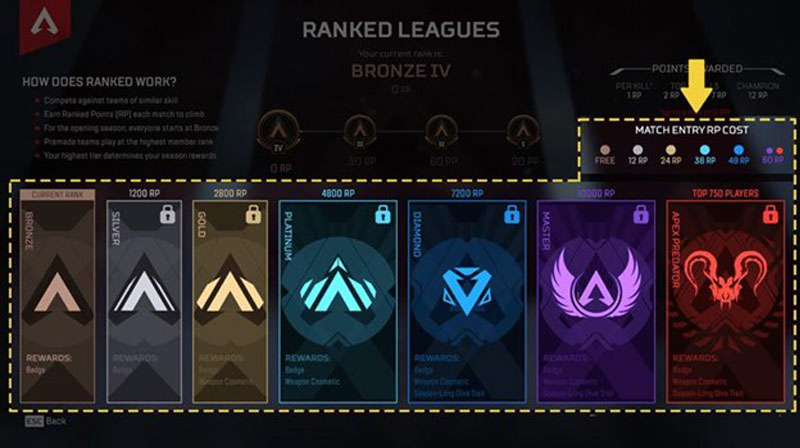 You earn Ranked Points (RP) after each match for Ranked placements and total kills. This even includes if your teammate gets a kill and you didn't assist, which will earn you 50% of the RP (unless you're dead).
You don't get RP for heals or revives—only assists and kills. There isn't a cap on how many kills earn you RP, but after each kill you earn increasingly less.
Depending on where you place in your match, plus how many kills you earn, will impact how much RP you get.

| | | |
| --- | --- | --- |
| Place | RP | Kill/Assist RP |
| 1 | 125 | 25 |
| 2 | 95 | 23 |
| 3 | 70 | 20 |
| 4 | 55 | 18 |
| 5 | 45 | 16 |
| 6 | 30 | 14 |
| 7, 8 | 20 | 12 |
| 9, 10 | 10 | 10 |
| 11, 12, 13 | 5 | 5 |
| 14+ | 0 | 1 |
Scoring may change with every new Seasons, so be sure to stay up to date with the latest Apex news.

Why did I end a match with less Ranked Points than I started?
Because of the cost of entering a match, you could end up with less points than you started.
Can I lose my ranking?
Yes, you can drop to another division or tier in Ranked Battle Royale. When you enter a new Ranked tier, you'll have three games where you get demotion protection. After that, if you drop below the tier threshold, this will trigger a demotion penalty and you'll get bumped halfway down the previous division.
For example, if you were in the Master tier and then were demoted, you would move down to 50% of the Diamond I division.

How does loss forgiveness work?
Check out our explanation on how loss forgiveness works on ea.com.
Why did I lose my Apex Predator rank?
The Apex Predator tier has a cap at the top 750 players per platform. Because it has a cap of a certain number of players, if you lose your RP or another player gains more than you, you may drop back down into the Master tier.
Seasons are divided into two Ranked splits. Splits are the two periods when Rankings will have a soft reset between the two periods in each season, and those in the highest tiers in either split will get rewards.
Split resets
Resets happen at the start of each Season, then mid-way through. Players will get the end of season rewards based on the highest tier achieved in either split.
Players ranked Platinum or higher can only party with friends who are one tier higher or lower than them. This is to prevent boosting and to keep the competition fair.
Join Answers HQ to get help from other players and chat with the community.
Was this article helpful?
0% of 0 players found this article helpful.