EA Login Verification helps to keep your account safe. We'll send you a code to make sure it's you when a new device tries to log in to your EA Account on some EA services.
Turn it on
Backup codes
Why you need it
More help
Go to your EA Account Security settings.
Under Login Verification, click Turn On.
We'll send you a code via the method you choose right away. Use that code to activate Login Verification, and you'll be all set.
Tip: Keep your email address up to date so you can always get your codes to log in.
Choose how you get your codes
We can send you codes by email, text, call, or the app authenticator. Set up more than one method so you can have options each time you log in.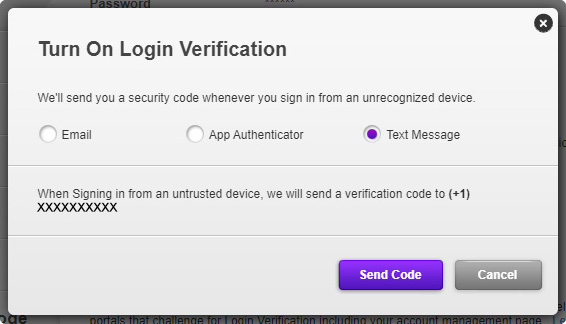 Not getting the codes to your email address? Try resending your security code or setting up a secondary email address to send to.
Set up multiple methods for Login Verification
Go to your EA Account Security settings.
Under Login Verification, find Preferences.
Click Edit.
We may ask you to verify your account. We'll send a Login Verification code to either your email or phone number.
Choose the new method you want to add to your account.
Click Send Code.
Use that code to activate Login Verification for a new method.
Using the app authenticator
When you use the app authenticator, you'll get a code from the Google Authenticator app whenever you need it.
Pick App Authenticator when you're setting up Login Verification, then click Continue.
Choose your device from the pull-down menu.
Install the Google Authenticator app for Google Play or iPhone.
Open the authenticator app.
Click Begin Setup.
Choose how you want to set up the authenticator:

Choose Scan barcode to scan the QR code from your Settings.
Choose Manual entry to type in your EA Account's email address and the Secret Key from your Settings.

Enter the code that the authenticator gives you.
Click Save.
Now when we ask you for a Login Verification code, you can open the app and enter the 6-digit code that appears.
Tip: Each code lasts for a limited time. If the timer on the code is about to run out, wait for a new code. That way you know you'll have enough time to put it in.
If you lose your phone, the authenticator app fails, and you can't access your email address, backup codes are the only way to sign into your EA Account from a new device. You can view and renew these codes in your EA Account Security settings.
Go to Backup Codes and click View to find them.
Write your backup codes down and keep them in a safe place so you'll always be able to log in when you need to.
If you lost your phone and you can't access your email or backup codes, contact us and choose Manage my account and Can't log in for help.
We'll ask you for a verification code when you try to log in to some EA games and services. We will also ask for one when you try to change your account info.
We use this code, along with your password, to check that it's you when you try to access your account from a new or unrecognized device. If you do not have both your password and your code, you can't log in.
Do you play FIFA? If you do, you have to turn on Login Verification to access FIFA Ultimate Team (FUT). You need it to access the Web or Companion apps, and you'll be asked to turn it on to get into FUT on the platform and PC.
Don't have your backup codes written down or having trouble setting up Login Verification?
Contact Us
Was this article helpful?
0% of 0 players found this article helpful.