Save your progress when you launch into the Ring. Link Apex Legends Mobile to your EA Account, Google Play (Android), your Apple ID (iOS), Twitter, LINE, or Facebook to save all your hard work.
LINE is only available for account linking in Japan and South Korea.
When you link your game to your EA Account, Google Play, your Apple ID, Twitter, LINE, or Facebook, your progress is saved automatically. Linking is quick and easy, and you won't have to worry about your progress if anything happens, like if you update your OS. You'll pick up right where you left off.


When you first launch the game, you will be prompted to connect your account.
Tap to login with your EA Account, Twitter, LINE, Facebook, Google (Android), or Apple (iOS), depending on which mobile device you use.

Follow the on-screen instructions to sign in with your chosen account.
You'll be redirected back to the game screen and can tap Play to begin.
If you've been playing as a Guest and want to save your progress, you can also link your account anytime in Settings.
Here's how to do it:
Tap Settings on the bottom-left corner of your Apex Legends Mobile home screen.
Tap the + (plus sign) icon at the top.

Choose which account you want to link to. Your options are EA Account, Facebook, Google Play, or Apple ID, depending on your device.

Can I link to more than one?
Yes, you can link to multiple platforms. This helps to keep your account secure and lets you move your account between different devices, like if you are playing on an Android phone or iPad.
Here's how to do it:
Tap Settings on the bottom-left corner of your Apex Legends Mobile home screen.
Click the + icon.
From here you can see which accounts you've linked (a chain symbol will appear on the icon).
To link another platform, click its icon and follow the instructions.
You can only link an account that has not been used before to create a profile in-game.
What if I want to move my account from one device to another?
If you get a new device, you'll want to sign in with the same mobile info you did on your previous one. This will also restore all your progress and purchases. It'll need to be the same type of account as your previous one (EA Account, Facebook, Google, Twitter, LINE, or Apple).
If you switch from Android to iPhone or vice versa, you first need to make sure your account is also linked to either Facebook, Twitter, LINE, or your EA Account. Then, login via this method on your new device.
If you don't link your account, you'll be playing on a Guest account. Guest accounts only save data and progress directly to the device they're played on. For Limited Regional Launch, using a Guest account means you won't be able to buy Syndicate Gold.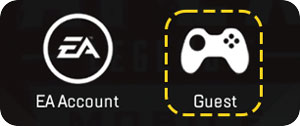 Plus, there are a few other drawbacks:
You can only play your game on the device you created it on. Your game won't move over to different devices.
All game progress will be lost if you factory reset your device, install a major OS update, or delete the app.
Lost game progress is permanent. We can't recover an unsaved game.
Visit the Apex Legends Mobile forum on Answers HQ for the latest patch notes, known issues, and workarounds.
The best way to get help for Apex Legends Mobile is from inside the game, but if you can't launch the game or have lost your device, tap or click the Contact Us button to get in touch with us. Heads-up that we'll need your Apex Legends Mobile ID to find your account and help you.
Was this article helpful?
0% of 0 players found this article helpful.