Learn how to toggle the gyroscope on/off and how to configure it in Apex Legends Mobile.
Can't get a good shot at enemy players? Swiping with your fingers to get a perfect aim is sometimes hard, as touch screen sensitivity can make the crosshair move off target. Turn on the gyroscope so that you can tilt your phone to adjust the crosshair for a more accurate shot.
To toggle the gyroscope on/off:
Tap on Settings after opening the game.
Tap on Sensitivity and choose Gyroscope.
Toggle the gyroscope mode between Off, On while ADS (Aim down sight), and Always On.
Choosing On while ADS will turn the gyroscope on only when you use your weapon's scope. Select Always On to keep it on at all times including during hip fire.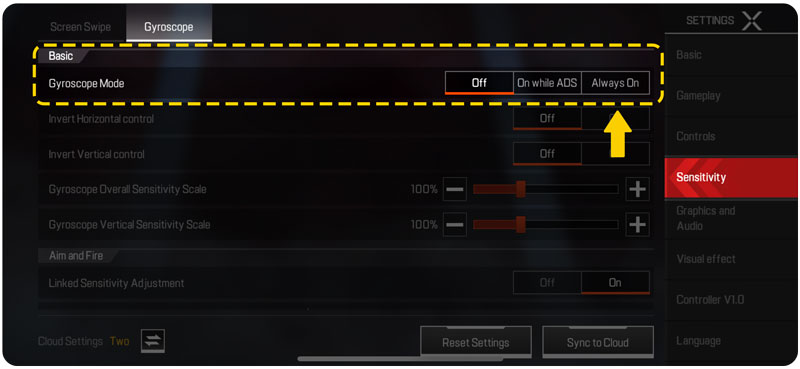 Basic
Invert Horizontal Control: Turn it on to flip the default horizontal movement of the camera. If you tilt your phone to the right then the camera will move left and vice-versa.
Invert Vertical Control: This flips the default vertical movement of your camera. Tilt the phone up and the camera will move down and vice-versa.
Gyroscope Overall Sensitivity Scale: Use this option to increase or decrease the camera sensitivity in-game.
Gyroscope Vertical Sensitivity Scale: This option influences the vertical sensitivity of the camera.

Aim and Fire
Linked Sensitivity Adjustment: Each setting below this has two options, one for aiming and the other for shooting. You can link them together by turning on this setting so that adjusting one will also adjust the other.
FPP without ADS: Adjust the camera sensitivity when you play in first person mode when not aiming down sights (ADS) of your gun.
TPP without ADS: Playing in third person mode? Use this option to adjust the sensitivity when you aren't aiming down sights.
1x-10x optic ADS: For each level of ADS zoom, there's a setting to adjust gyroscope sensitivity.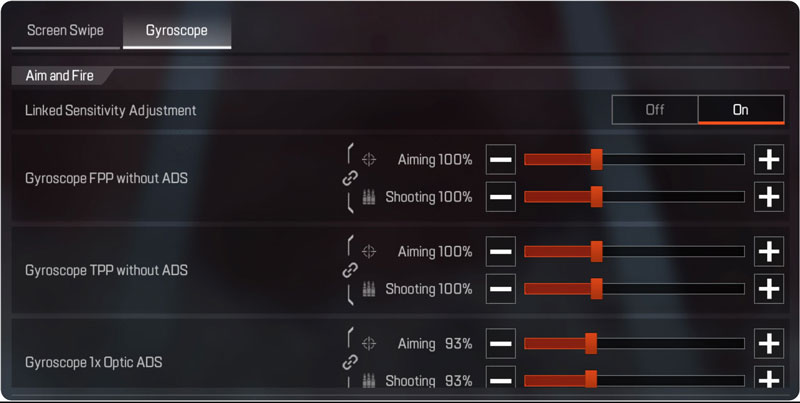 My gyroscope isn't working. What should I do?
Toggle the function from the Sensitivity menu under Settings.
Close the app and check if your phone has a gyroscope.
Check for the latest game updates on Google Play Store if you're playing on an android phone or the Apple Store if you use an iPhone.
Relaunch the game.
Visit the Apex Legends Mobile forum on Answers HQ for the latest patch notes, known issues, and workarounds.
The best way to get help for Apex Legends Mobile is from inside the game. Can't launch the game or lost your device? Tap or click the Contact Us button at the top of any page to get in touch with us. Heads-up that we'll need your Apex Legends Mobile ID to find your account and help you.
Was this article helpful?
0% of 0 players found this article helpful.