Create or join Clubs in Apex Legends, change your privacy settings, and learn about different Club member ranks.
What are Clubs?
Create a Club
Join a Club
Invite players
Leave a Club
Club member ranks
Find a Club
Clubs are social groups that let players squad up together without adding strangers to your friends list or using external Looking for Group (LFG) tools. They're player-created and maintained.
Your Club can be exclusive, open, or searched for in-game depending on your Club's settings. You'll also be able to earn rewards as a Club every month as you compete in the leaderboards.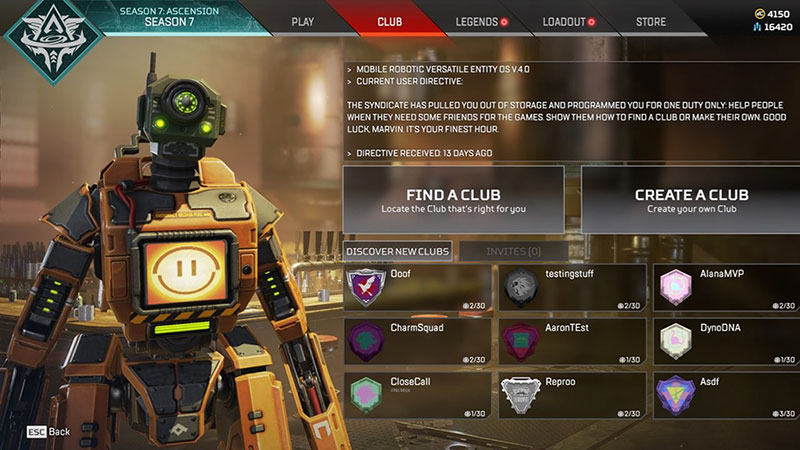 How many Clubs can I be in?
You can only be in one Club at a time. If you want to join a new Club, you'll need to leave your current one.
You need to be at least level 10 to create or join a Club.
How many members can be in a Club?
Each Club has a max of 30 members.
Go to the Club tab in the lobby.
You'll see a list of Clubs to join, an option to search for Clubs, or the option to create your own.
Click the button to Create your Club.
After that, you have seven days to add at least two more members to your Club (three total, including yourself) or it will automatically be disbanded.
You'll also need to fill out the following for your Club settings:
Name - A unique Club name with a limit of 16 characters.
Tag - A four-character shorthand that appears during a match with your Club mates.
Logo - A symbol or design that represents your Club and is visible in the lobby.
Privacy settings - This controls who is in your Club and how other players can find it. Check out the full breakdown below.
Search tags - Choose up to five search tags to describe your Club to other players.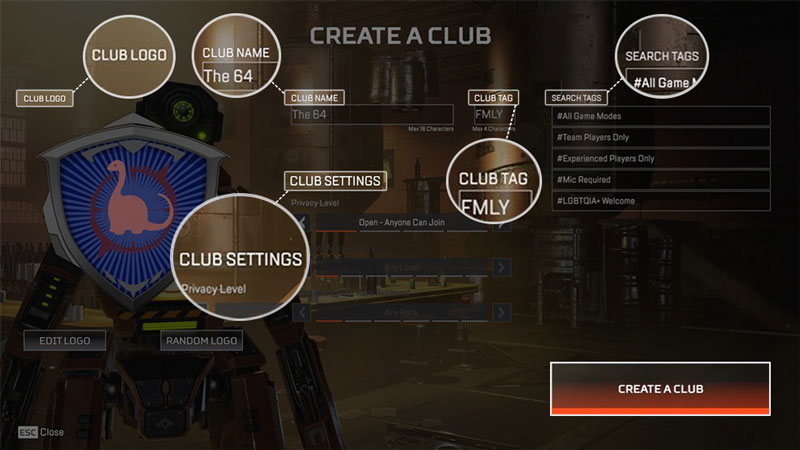 What are the privacy settings?
Open​ - Anyone can find and immediately join the Club by searching for it.
Open with Requirements​ - Anyone can find the Club by searching for it, but players can only join if they meet Owner's requirements.
By Request​ - You can find the Club by searching for it, but you need to ask to join. The Club Owner and Admins then have seven days to accept or reject your request. If they don't accept it in seven days, it's rejected.

You can only request to join one Club at a time.

Invite Only​ - You can't find these Clubs in search results. You can only become a member by accepting an invite from an existing member.
You can find Clubs to join in two places:
Club Discovery list for suggested Clubs to join.
Club Search to look for Clubs by tags or by name.
How to search for a Club
Go to the Club tab in the lobby.
Click Find a Club.
Filter and search by name, tag, privacy settings, and search tags.
Depending on your Club privacy settings, only leaders may be able to invite players to a Club.
Go to the Club tab in the lobby.
Click Search for New Club Members.
Type in their EA Public ID. You can also go to your Privacy Settings and change how players can search you by going to Allow users to search for me by and checking:

Email address
PSN™ Online ID for PlayStation 4 and 5
Xbox Live® gamertag for Xbox One and X|S
Nintendo Nickname for Nintendo Switch
You can leave a Club at any time by clicking Leave Club at the bottom of the Club menu. If you're the Owner of the Club, you need to either choose a new Owner from your team, or delete the Club.
If you leave a Club within 24 hours of joining it, you can find a new Club to join as normal. If you look for a new Club after the 24 hours, you'll need to wait three days before you can join a new Club.
If you're kicked out of a Club, or choose to kick someone out, you may be banned for a week, or permanently depending on the Owner or Admins' decision.
Only an Owner can change ranks for other members in the Club, if they want to. Here are the different ranks and what they can do:
Grunt - Grunts contribute to the Club's qualifying scores and to Club battles, and also get Club rewards. This is the default rank for any new Club member.
Captain - Captain's have the same abilities as Grunts, but can also send invites to other potential members.
Admin - Admins have the same abilities as Captains, but can also kick out or promote Captains and Grunts, accept new members from the request queue, send announcements, and edit the Club logo.
Owner - There can only be one Owner per Club. If the Owner wants to promote someone else to Owner, they'll be demoted to Admin. Owners have all the same abilities as Admins, but they can also promote or demote all members ranks, change the Club tag, and kick out all members.
Need help finding a Club? Head over to the Answers HQ community where you can find a squad or Club to join.
Contact Us
Was this article helpful?
0% of 0 players found this article helpful.