End of Legacy mode
Legacy mode is not compatible with the new version of FIFA Mobile. This means you can play with your current team until the new season begins, but you won't be able to view or play with it as a Legacy Team in the new season.
End-of-season team OVR
Your end-of-season team OVR still matters! The rewards you'll get in the new season are based on your final team OVR. The higher your Active Lineup's OVR, the better your rewards!
Collect Now and Later Points in the Preseason Freeze event to get rewards in the new season.
Earn untradeable Now and Later Players to get a version this season and a version next season with all new stats.
Regions
The new season of FIFA Mobile is launching new separate servers based on your location. We designed this update to:
Improve matchmaking.
Enhance connectivity in competitive modes.
Bring more relevant live events to each Region in the long term.
Make the game more accessible and affordable for players all over the world.
What does this mean for me?
When you log in to the new season of FIFA Mobile for the first time, you'll be sorted into one of the seven Regions below and matched with other players in that Region. This is based on your device's location and can't be changed.
Asia and Oceania
Europe, East
Europe, West
Indian Subcontinent
Latin America
Middle East and Africa
North America
Can I play against players outside my Region?
No. Matchmaking (VS Attack, Head to Head), Leaderboards (Division Rivals, Live Events), Friend Lists, and Leagues are only available with players from your Region.
How will this affect my League?
Leagues will be restricted to a single Region. Leagues will be automatically sorted into the League owner's Region.
Star Pass
Complete Daily Quests and Star Pass Quests to earn Star Score.
A new node unlocks every time you earn 30 Star Score points.
Star Pass Rewards are divided into two categories: Free and Gold (Premium).
All of the nodes have rewards, but you can't claim the rewards on the Gold (Premium) path without buying this option in-game.
Star Pass resets every 28 days. Check out the timer on the top-left of your screen to see how many days you have left.
Market
The Market is back with a few changes. Find out all about how the Market works in the new season of FIFA Mobile here.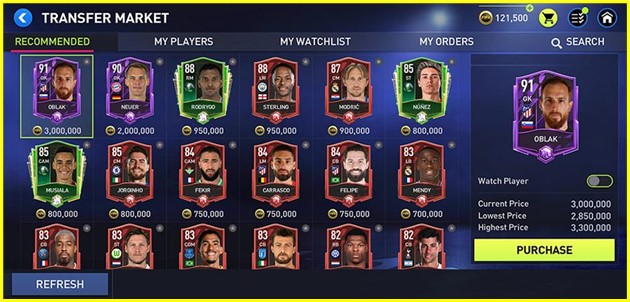 * We captured this image from a build currently in development. Item values shown may not fully represent the final product.
Challenge Mode
Challenge Mode is a new game mode that lets you play based on your team OVR, Chemistry, or line-up requirements.
Play matches to progress along the mode for rewards.
Matches get progressively harder as you go through the Challenge Mode.
Each Challenge Mode has a daily limit.
If you lose a match you're eliminated from the Challenge Mode, but you can spend FIFA Points to re-enter.