Use RaceNet to keep track of your progress, check Leaderboards, and get all the latest GRID Legends news.
RaceNet is your hub for all things GRID Legends whenever you're away from the game.
Connecting to RaceNet is optional, but if you enjoy tracking your stats and keeping an eye on how your friends and rivals are doing, you'll want to sign up to it.
Once you've linked GRID Legends to an EA Account, all your stats from GRID Legends are sent to RaceNet, so your Profile and Leaderboard positions are always up to date.
Make sure you're using the same EA Account you use to play GRID Legends when you log in to RaceNet.
On RaceNet you can:
Get an overview of what's happening in GRID Legends in the Hub.
Check your own progress in-game and compare it to your friends.
Get a full breakdown of your own stats, similar to the one you see in-game.
See Global leaderboards for any combination of event, circuits, vehicles, and weather conditions. You can even filter these results to show only your Friends or players from your country.
Get all the latest GRID Legends news.
Check your progress and stats in other Racenet-enabled Codemasters games, including:

F1 2021
DIRT 5
DiRT Rally
DiRT Rally 2.0
We'll be adding more to RaceNet over time, so be sure to check in for updates.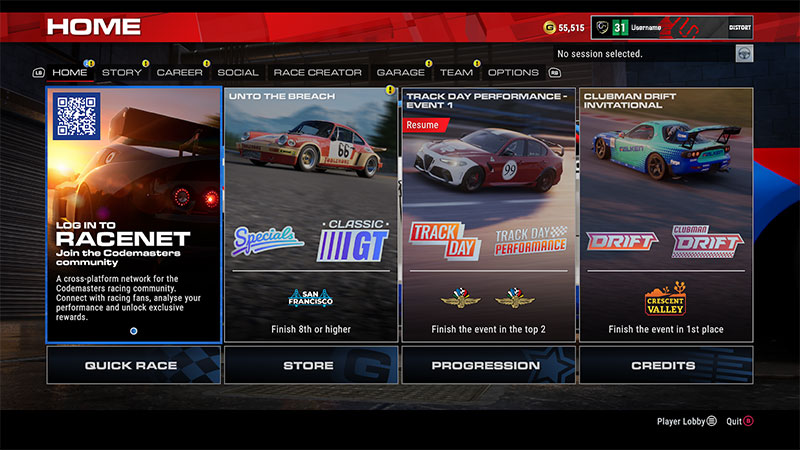 Connect to RaceNet from the Home screen in GRID Legends:
Select Log in to RaceNet.
Scan the QR code.
Follow the instructions to log in to RaceNet.
You can also log in to the RaceNet website using your linked EA Account details.
Contact Us
Was this article helpful?
0% of 0 players found this article helpful.
Not what you were looking for?
Try searching again.