We've got everything you need to know about pre-ordering games on Origin, including when you'll get billed for your purchase and how to cancel if you need to.
Head to the Origin Store and browse for the game you want to pre-order. Once you find the game you want to buy, click Get the Game on its page to start the pre-order process.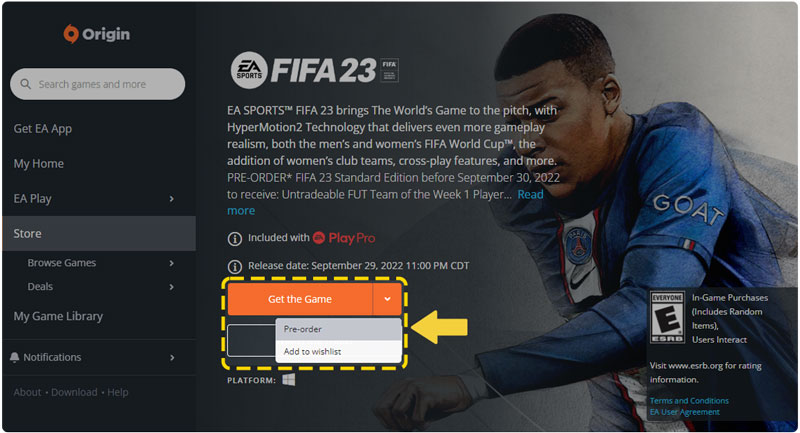 What will I get with my pre-order?
If there's any bonus content or special stuff you get with pre-ordering a game, it will all be detailed on the game's page in the Origin Store.
After you click Get the Game, you'll be taken to a page explaining the different editions of the game and what pre-order bonuses are included if there are any.

If you're using a credit card or PayPal, we'll take your payment up to seven days before the game launches. Make sure your payment method is up to date on your account so your pre-order doesn't fail.
You'll be charged the day you place your order for all other payment methods.
Heads up: In some cases, PayPal will charge transaction fees instantly. Learn more on the PayPal website.
We know that sometimes things come up, so we understand if you need to cancel your pre-order before a game comes out.
To cancel your pre-order:
Log in to your EA Account management page.
Click Order History.
Find your pre-order and click on the plus sign (+) to expand it.
Click on Cancel under the Pre Order heading on the right.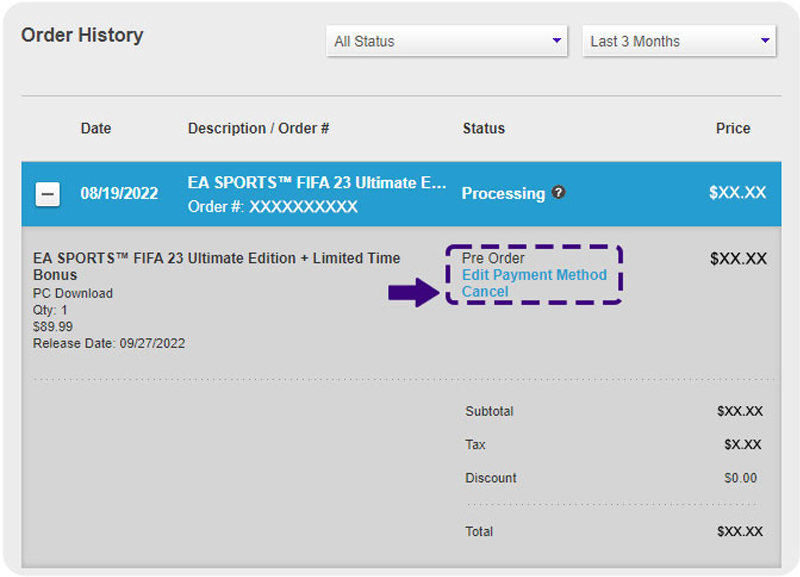 Heads up: If you cancel your pre-order and buy the game after it launches instead, you'll forfeit any pre-order bonus content that comes with it.

What if I have EA Play Pro?
If you pre-order a game that's included with EA Play Pro, then you decide to become a member, you can either cancel your pre-order or get a refund.
If you haven't been charged yet for your pre-order, you can cancel it by following the steps above.
If you've already been charged for your pre-order, you can get a refund for your game within 14 days of being charged.
Having trouble getting a refund? Contact us so we can help.
Remember: If you cancel your membership and haven't bought the game separately, you'll lose access to it until you resubscribe to EA Play Pro or buy the game.
Not already a member of EA Play? Find out more about our PC memberships.
What if I pre-ordered somewhere other than Origin?
If you've pre-ordered your game from another retailer, contact them to find out how to cancel your pre-order.
If you pre-ordered digitally on Xbox, contact Xbox Support.
If you pre-ordered digitally on PlayStation, contact PlayStation Support.
Contact Us
Was this article helpful?
0% of 0 players found this article helpful.