Pogo has a new sign in to connect your account across all EA games, sites, and services. Check out the new sign in page and see how to find your account info.
Learn more
Tips
FAQ
Pogo is owned by EA, and EA Network Accounts let you access all of EA's sites, games, and services. After you update to your new account, you'll sign in using your email address and Pogo password instead of your Pogo screen name and password. You'll still be identified by your screen name in games and chats, and your email address won't be visible to other players.
How do I know this change is coming from Pogo?
EA owns Pogo and we include our branding or copyright on emails and the Pogo website.
On the Pogo website you'll see this copyright at the bottom of the page.

And you'll see this logo and message on emails from us.
What does this change help with?
Connecting your Pogo account to an EA Account will help keep it more secure.
What can EA Accounts do?
They let you keep all your friends and favorite games in one place and you can use them to log in to help.ea.com, origin.com, easports.com, and other official EA websites.
Sign in to pogo.com with your email and Pogo password to complete the process.
We may ask you to choose a new password and security question.
Follow the steps to connect your Pogo account to your EA Account.
You'll get an error if your computer tries to log you in with your old Pogo password. Make sure you delete the old password from your browser's history.
Here's what it looks like: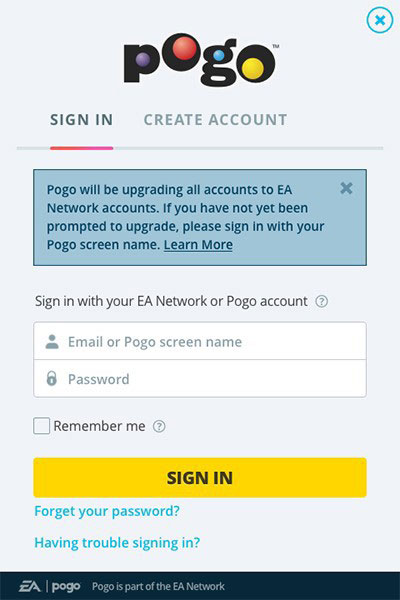 At the bottom of the page is our logo and message that Pogo is part of the EA Network.
We'll email you a list of your screen names, so you can link each to one email address. If you don't have enough email addresses, you can make more with an email provider.
Follow these steps if you have more than one screen name connected to your email:
Open www.pogo.com.
Sign in with your email and password. (Remember this is the new log in info. Before this was your screen name and password.)
Choose a different email address to go with each screen name.
Make a note of which email belongs to which screen name and you're all set!
Some helpful tips:
EA advisors can delete Pogo accounts that you don't want. Recover all your favorite accounts, then work with an Advisor to delete the others.
Make a note of each Pogo account you have and its email address. You'll need this info to log in with your screen names in the future.
Go to pogo.com.
Click Sign In.
Click Having trouble signing in?
Choose either:

I used to sign in with my Pogo screen name
I can't sign in – help!

Follow the steps you're given.
What if I don't remember my password?
Click Log In next to the Origin logo at the top of this page and then the Forgot Your Password? link under the password field. Enter your email address and you'll get an email with your EA Account password.
Why did I have to confirm my email address?
We asked to make sure it's right, that you have access, and that nothing is spelled wrong. If your email address is old or you don't have access, visit your My Accounts page to update it. This Pogo Insider Blog talks more about why we confirm email addresses.
Why is my password reset sending me to EA.com?
Pogo accounts are linked to EA and this should happen.
What if I need to make a change to my account?
Use this EA Help article to learn how.
Was this article helpful?
0% of 0 players found this article helpful.
Not what you were looking for?
Try searching again.