In Game Update 6.3, we introduced a new way for you to earn rewards in-game while playing Star Wars™: The Old Republic™.
It's called Galactic Seasons.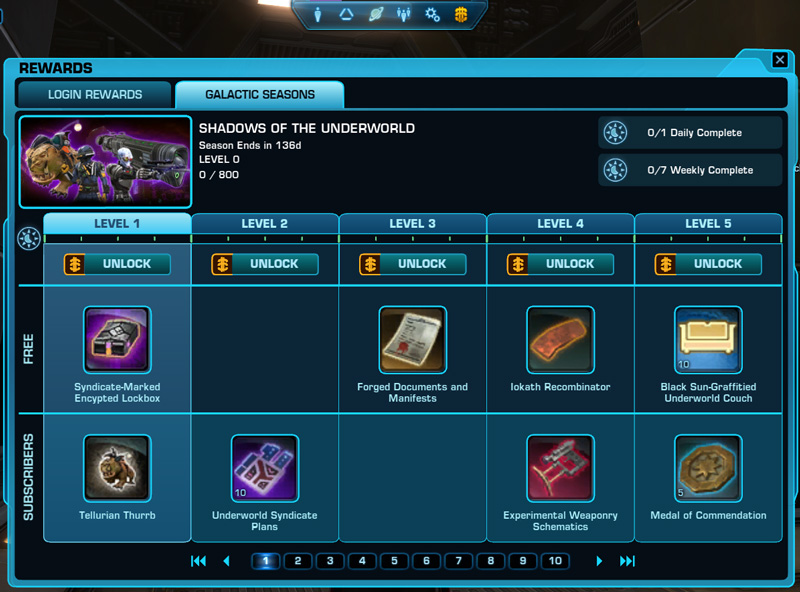 During each Galactic Season, there are Daily and Weekly Season challenges available, complete these to earn points to progress along your reward path and unlock rewards.
You'll see an overview of your progress on Seasons Objectives in the Galactic Seasons window, and more details are available on the Seasons tab of the Conquest window in your Mission Log.
To track your progress:
Open your Mission Log (press [L] by default)
Click on the Conquest tab.
Click on Season Objectives.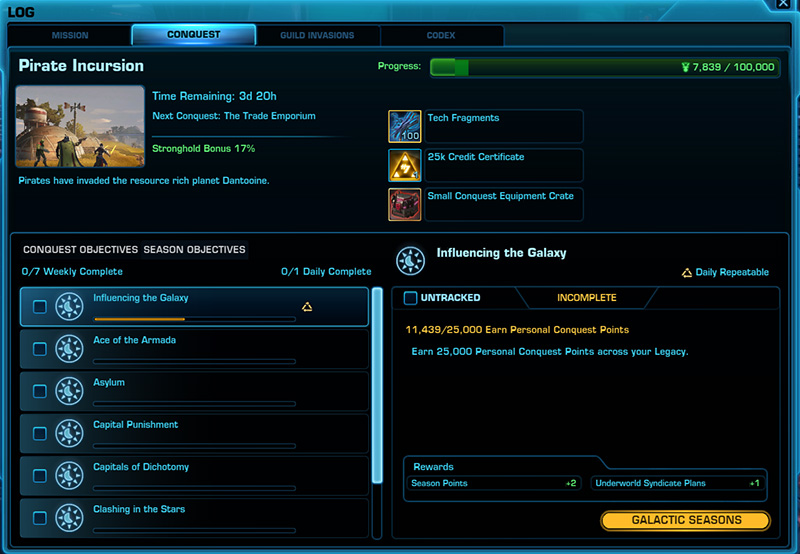 Once you've completed your 7 Weekly Objectives, any remaining Weekly Objectives will be greyed out until the following Tuesday when the next Seasons week starts.
If you're a Subscriber, you earn the rewards from both the Free and the Subscriber paths - as long as your Subscription is active through the end of the Season.
If you're not a Subscriber you earn the rewards from the Free path only.
Rewards include a new Companion, Cartel Coins, and Galactic Season Tokens which can be used to purchase additional items including a new Galactic Stronghold. Once you've unlocked and claimed your reward it's available to every character in your Legacy through Collections.
Here's a breakdown of reward types and how they're awarded:
| | | |
| --- | --- | --- |
| Reward type | Binds to | In Collections? |
| Galactic Seasons token | Legacy | No |
| Cartel Coins | Account | No |
| Companion | Legacy | Yes |
| Items from Galactic Seasons Vendor | Legacy | Yes |
| Cartel crates | Bind on pick-up - once opened items go into Cartel Stash | Yes - as soon as one of your Characters uses an item, it's added to Collections. The only exception here is any Decorations that came from the crate. |
| Seasonal weapons | Legacy | Yes |
| Seasonal armor | Legacy | Yes |
| Seasonal decoration | Legacy | Yes |
| Seasonal title | Legacy | Yes |
Because we know many of you can't play every day, we've also made it possible to catch up on rewards you missed using Credits, or skip ahead and unlock higher tier rewards using Cartel Coins.