The first changes you'll see to the in-game User Interface are around Character Creation and your Character Sheet, with more to come as our 10 Year Anniversary celebrations continue over the coming year.
Character creation
We've made it easier for you to see the choices available when you're creating a new Character and we've included some text to give you a flavor of what you can expect from your Origin (formerly known as Class) Story.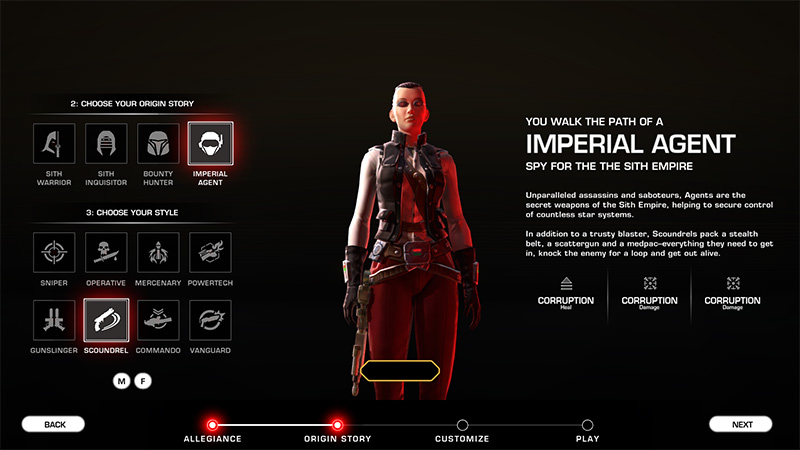 First, you choose your Origin story, then you choose your Combat Style (formerly known as Advanced Class), then you customize your Character's appearance.
If you want to, you can even choose a second Combat Style after you create your Character and load into the game on them.
Combat styles
Originally, each Origin Story could choose one of two Combat Styles, and it wasn't possible to alter that choice. This meant that your preferred playstyle could dictate the Origin Story you chose.
With Legacy of the Sith, we've widened the options available to all Origin Stories.
All Force-users have access to all Force-based Combat Styles.
Characters that use blasters have the full range of Tech Combat Styles available.
Here are the Combat Styles available to Force-users: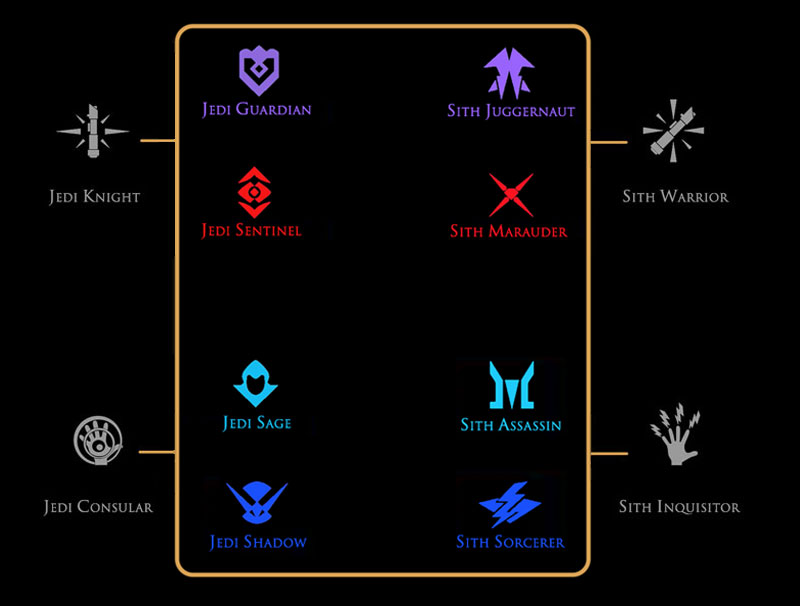 And these are the Combat Styles available to Tech Origin Stories: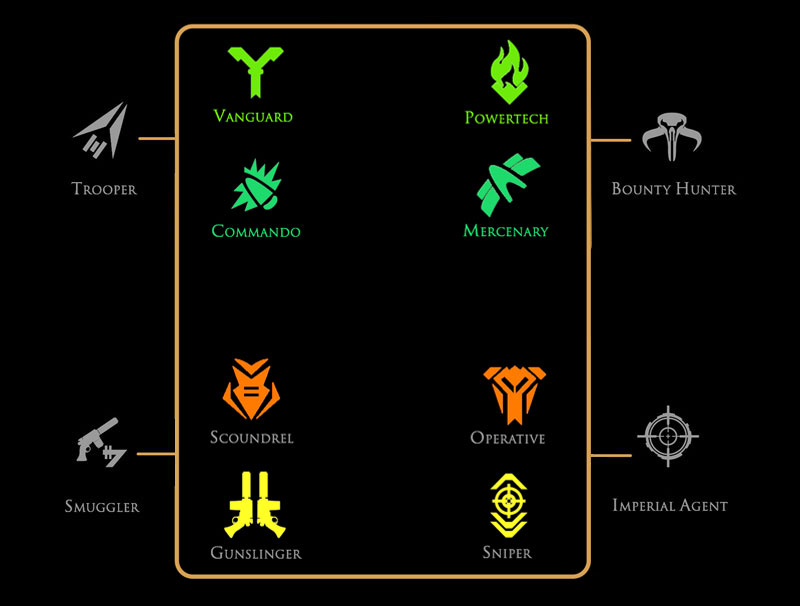 For existing Characters, the Combat Styles available depend on your Alignment with the Force. Dark Side Combat styles are available to your Light Side characters if you have unlocked the Dark V achievement in your Legacy, and vice versa.
If you haven't unlocked Dark V or Light V on your Legacy, your Alignment with the Force at the end of Act 3 of your Origin story determines the Combat Styles available to you.
For example, if you play to the end of your Origin Story as a Jedi Consular, and your Force Alignment is on the Dark Side you will be able to switch to any of the Dark Side Force-user Combat Styles.
When you log in to Legacy of the Sith for the first time, your default Combat Style will be your Character's original Advanced Class. If you've completed your Origin Story on that Character, and you're a Subscriber, you'll be able to choose your second Combat Style as soon as you load into the game. Force-users will have a Mission called [Training in the Force] and Tech Origin Stories will have one called [Training and Skills] to set your second Combat Style.
Things to remember:
When you choose a Secondary Combat Style, you're asked many times to confirm that you're happy with your choice. This is because you can't undo or change your choice once you've finalized it, and our Customer Service team can't change it for you either.
Secondary Combat Styles and the additional Loadouts that come with them are a Subscriber-only feature. If you are not a Subscriber, you won't have access to them. If you are a Subscriber and your Subscription ends, you'll keep the Combat Style that was last active on your character while you were subscribed and will only have access to your Loadouts that are associated with that Combat Style. See this swtor.com forum post for more information.
Different Combat Styles use different weapons and accessories. If your Character's Primary Combat Style is Sith Assassin, and you choose Sith Marauder as your Secondary Combat Style, you'll need to make sure you have two single-bladed Lightsabers for them to use when you switch Combat Styles.
To make this easier, once you've reached Level 60, you can choose a Loot Discipline for your Character that allows you to choose the type of loot that drops for your character based on the Disciplines you have available.

To choose your Loot Discipline, right-click on your Character portrait.
Click on Loot Discipline.
Choose the Discipline you want loot to drop for.

Take some time to set up Loadouts for each Combat Style, and for different Disciplines too, if you want to. Pro-tip: Your hotbar settings are included in your loadout, so making a Loadout and setting up your hotbars for each Discipline makes switching between them much easier.
Make sure you select your preferred active Abilities from the Ability tree when you switch Combat Styles or Discipline.
Skills and Disciplines
All Skills (except for Speeder Piloting) are now auto-trained on all Characters as soon as they're earned.
We've also made it easier than ever before for you to switch Disciplines. You no longer have to visit the Skills Mentor on the Fleet at all. You also don't need to use a Field Respecialization Droid as long as:
You're not in combat.
You're not inside a phased group area.
To change your Discipline:
Open your Character Sheet (press [C] by default).
Click on the Combat Style tab.

Click on the Discipline you want to switch to.
There is a short timer on Discipline changes to make it easier for you to switch again if you misclicked. Whenever you switch Disciplines, you automatically train all skills for that Discipline.
Character sheet
Your Character sheet has been updated to include your personal Inventory, info on your Combat Style and Discipline, as well as your gear, your current Companion's gear and our new addition, your Loadouts.
This means you have far more information available at a glance, and you can manage your gear and your Inventory without having to open multiple windows.
To reduce clutter, we only display the most important stats for your Character and Companion by default. To see more detailed information about their stats, click on the Details button.
To change your Character's Title or Flair, click on the Medal icon beside their name on the Gear tab.
Loadouts
Loadouts allow you to manage your gear, weapons, abilities, your taskbars, and even (if you're in a rest area, and you're a Subscriber) switch between two Combat Styles.
Instead of needing to spend precious minutes gearing up for an Operation if you've just been playing in a Warzone, you can now do it with a couple of clicks directly from your Character Sheet.
Building your loadouts works similarly to stamping an outfit—there are just more things you can add to them.
Here's what you can edit in each loadout:
Currently equipped gear
Stamped Outfits
Titles
Ability Bars, including hotbar assignments
Combat Styles including Discipline and Ability choices.

You can't ever switch Combat Styles or Disciplines if you're in combat, in a Flashpoint, Uprising, or Operation, queued in Activity Finder, or in PvP.
You need to own and use a Field Respecialization Droid to switch Combat Styles and Disciplines outside of rest areas.
You can switch Ability tree choices when you're out of combat, and in between rounds in PvP.
To create a new Loadout:
Set up your Character's gear, weapons, Discipline, active Skills and hotbars as you want them to be.
Open your Character sheet (press [C] by default)
Click on the Loadouts tab.
Choose + Create Loadout.
Type in the name you want to give your new Loadout and click OK.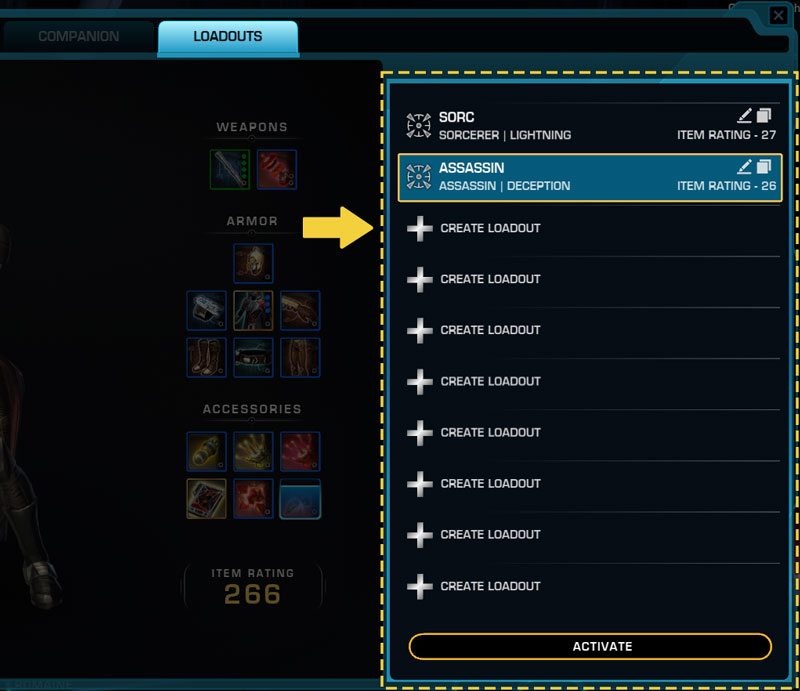 To switch to another loadout:
Open your Character sheet (press [C] by default)
Click on the Loadouts tab.
Click on the Loadout you want to switch to.
Click Activate.
Note: If you unsubscribed and lost access to a second Combat Style and the loadouts that go with it, you won't be able to delete those deactivated loadouts.