We've given Pogo's look a refresh with a new website version. See available Challenges and where to find rewards.
Pogo Classic officially went away on May 18, 2021 and was replaced with the new Pogo experience. You may occasionally see pages hosted on Pogo Classic, but these will eventually switch to the new Pogo experience.
The new Pogo experience
Available games
Past Pogo rewards
Challenges
We've heard your feedback about navigation, game performance, and game quality. So, we made some changes.
The new Pogo experience is our website design that we'll keep updating with new features and game modes.
Where is it available?
You can use it on any device with internet connection and a web browser. This includes desktops and laptops, tablets, and smartphones.
Why else is Pogo changing?
Technologies have evolved. Technologies have evolved. Platforms that used to power Pogo games—like Flash—have gone away.
We've done our best to make updates that work around changes, but a complete website refresh lets us act on all your needs. The new Pogo experience is the next step in our commitment of making Pogo your go-to for fun, relaxation, and connection!
All HTML5-powered titles are available to play on the new Pogo experience. Java games aren't available since they're being phased out across the web.
Where can I find my favorites?
Click on the pink heart on the top right of the game page.
This opens the dropdown list of the top 10 games you've favorited. Click See More Favorites to see the full list.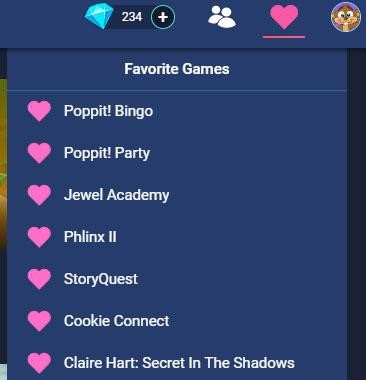 What's an Exclusive game?
These are new games that are only available on the new Pogo experience.

Only Pogo Club members can switch back to the Classic version after May 18 by following these steps:
Click your player icon in the top right-hand corner
Select My Profile
Click the cog wheel to the right of the screen name
Click Back to Classic.
Can you help me navigate the new Pogo experience?
Yes! Pogo player extraordinaire Joyce would love to give you the VIP tour.
See her when you visit different pages, or click the Replay the Tour button at the bottom of any web page. You can earn up to three Tour Badges by completing three tours.
Will my Badge collection transfer?
Yes! To view them click My Profile then My Rewards.
Where is Badge Central?
It's now called Challenge Central. Click on Challenges on the top of the menu to go to it.
Take a short tour with Joyce to familiarize yourself, including filtering and browsing Challenges. Scroll down to the bottom of the page and click Replay the Tour for a refresher.
Are tokens still available?
Tokens are not part of the new Pogo experience and you won't get notifications about tokens you earn. .
Instead, you'll earn Pogis from Challenges. These are special points that you can use to unlock bonus rewards like Badges, power-ups and avatars.
Here's where you can view your token count:
The new Pogo experience
Click on your avatar on the top right corner of the Pogo home page.

Choose My Profile.

Check your tokens in the My Library section.

| | |
| --- | --- |
| Challenges | The new Pogo experience |
| Daily, Weekly, and Event Challenges | Available |
| Purchased Challenges | Available |
| HTML 5-based games | Available via the home page by clicking Activate Now links below each challenge in the carousel, or by clicking the Challenges tab at the top of the Pogo web page. |
| Add Challenges & Earn Badges | Available by clicking on the Challenges tab at the top of the Pogo web page, then adding Challenges to earn Badges. |
| "B" Badge shield menu options | Not available |
If I spend Gems to purchase power-ups, will they be available on my PC and on any other device I play on?
Yes! Any power-ups, Challenges, and game episodes you buy will be available in the new Pogo experience, no matter where you access your device.

Head to the Pogo forums to connect with the community or ask questions that weren't covered.
Contact Us
Was this article helpful?
0% of 0 players found this article helpful.