Find out what payment methods EA accepts, and how to enter your payment info. Plus, learn how to buy games, expansions, and view your order history.
How to buy
My purchases
Payment methods
Charges
Changes
Tips
Order a game from the EA app
Launch the EA app.
Click Browse.
Find the game you want to buy in the EA app Store.
Click Buy the game.

If there are different editions of the game available, click Select Edition to choose the edition you want to buy, then click Buy.
If there's only one edition of the game available, click Purchase.

Choose to pay with a saved payment method, enter in a new payment method, or use your EA Wallet.
Click Proceed to Review Order.
Order a game through the Origin client for Mac
Launch the Origin client.
Click Store.
Browse or search for your game and click on the game tile to view more details.
Click Buy or Pre-order Now.
If you're already signed into your EA Account, the Payment Information page will load.

If you are not logged in yet, sign in with your EA Account login details to get to the Payment Information page.
If you don't have an account with us, click Create an account to sign up. Once you're registered, the Payment Information page will load.

Enter your payment information or use a payment method you have already saved to your account. Click Proceed to Review Order.
If you have a promotional code, click Enter Promo Code, enter your code in the box, then click Submit.
After you buy your game
We'll send you a confirmation email for your purchase. Remember to check your spam or junk folders if you're having trouble finding it.
Problems making a purchase? Check out our tips for common payment errors and how to troubleshoot them.
View your Order History to see everything you've bought in one neat place.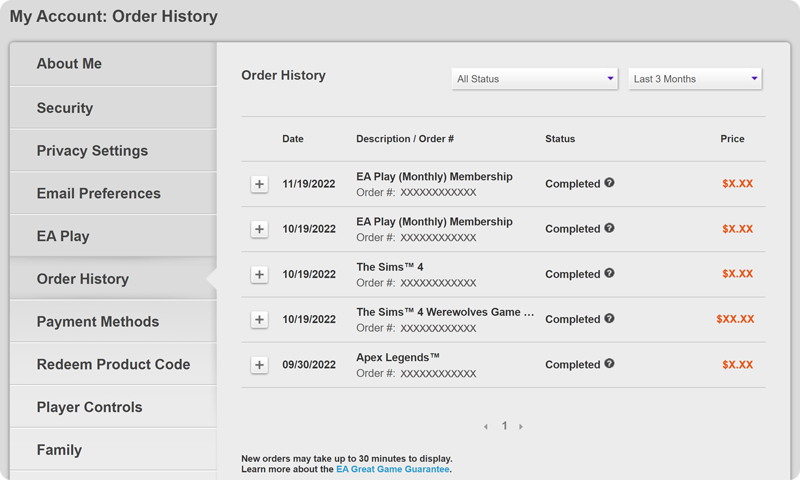 If you pre-ordered games in the EA app, you won't see them in your order history before the game launches. Check your order history online to view these purchases.
Click View more to learn about each topic below.
What payment methods can I use?
Some payment methods can't be used to purchase certain games, downloadable content (DLC), or virtual currency.
Payment methods vary based on your location and currency. Depending on where you are in the world, you can pay for your purchase with payment methods like:
Alipay
American Express
BoaCompra Credit Card
Carte Bancaire
Direct Debit
Discover
Dotpay
EA Cash Card and your EA Wallet Balance
Gold Wallet
iDeal
Ingenico Hosted Card
JCB
KCP Credit Card
MasterCard
PayPal
Qiwi
Trustly
UnionPay
Visa/Visa Debit
Visa Electron
Webmoney
Yandex
Yandex Credit Card
Yandex Qiwi
Yandex Wallet
Some things to note:
If you make a purchase in a different currency than you normally do, your usual payment method may not be available.
Some payment methods may not be available for some purchases, or you may see additional options, like mobile payments.
Want to request a refund? Check to see if you can get a refund right here, right now.
Non-refundable payment methods
Some payment methods are non-refundable. If you buy something with a non-refundable payment method, we won't be able to help you with a refund.
When you're making a purchase with us, make sure that you want to use your payment method if it's non-refundable.
Payment methods that aren't refundable include:

Alfa Click
Boleto Bancario
Depósito Identificado
Giropay
KCP Payco Walet
Konbini
My Card
Paysafecard
Sberbank
Sofort
Yandex Cash
Yandex Mobile
EA Wallet
Redeem an EA Gift Card on your EA Account to activate your Wallet. You can use your Wallet to buy games, in-game content, and EA Play memberships.
An EA Wallet can hold a maximum amount of money depending on your region.
AED 1286
ARS 1395
AUD 350
BGN 502
BHD 132
BRL 585
CAD 348
CHF 332
CLP 172384
COP 645575
CZK 6211
DKK 1913
DOP 13090
EEK 4016
EGP 2036
EUR 150
GBP 120
GTQ 2781
HKD 2729
HUF 70563
IDR 3171700
ILS 1263
INR 15916
JOD 248
JPY 28874
KRW 392735
LTL 886
LVL 180
MXN 4216
MYR 1069
NOK 2023
NZD 458
OMR 135
PEN 970
PHP 15596
PLN 994
QAR 1275
RRD 1000000
RUB 10441
SAR 1312
SEK 2302
SGD 448
THB 10833
TRY 547
TWD 10171
UAH 3000
USD 300
VEF 1505
VND 6823250
YER 75075
ZAR 2452
Split payments
If you have funds in your EA Wallet but they don't cover your full order total, you can use another payment method to make your purchase.
Split payments may not work for all payment method types.
You also can't use split payments on pre-orders or EA Play memberships.
Make sure you've got enough balance in your EA Wallet to cover the full cost for EA Play and pre-orders, or you'll have to use a different payment method.
You'll see a charge on your credit card the day after making your purchase. Any applicable sales taxes will be added to the price you see when placing your order.
Did you pre-order your game? Check out our article on pre-orders to see when you'll be charged.
Why is there a small charge on my order?
You may see a small transaction on your account's online statement within a day or two of any pre-order purchase, or update to your saved payment method.
These are temporary transactions we use to verify the payment information called pre-authorization charges. They'll automatically refund within seven business days.
There are other reasons why you might see a small additional charge associated with your purchase. Some banks charge an international transaction fee, cross-border transaction fee, or currency exchange fee when processing transactions in a different country and/or currency. These fees don't come from us, and we can't help you with them. Contact your bank or credit card provider to understand these charges.
Buy the wrong game, expansion, or DLC?
If you have not already downloaded the purchased product, grab your order number, then reach out to us and we'll make things right.
If you have already downloaded and started playing the game, you might still be covered by the Great Game Guarantee.
How do I find my order number?
Find your order number in the email receipt from your purchase or by viewing your Order History.
Reach out to us when you've got the order number handy. We'll take it from there.
Want a refund instead? You can check to see if your purchase is eligible for a refund by checking our request a refund tool.
Enter your card number as a continuous string of numbers, with no dashes or spaces.
For card verification, enter your billing address exactly as it appears on your billing statement. If it doesn't match exactly, your card provider may decline the purchase.
If you use a card or PayPal, you can save your payment information on your account. If you use a different payment method, you'll have to enter the information for it every time you buy something.
Click Set as Primary to make one of your saved payment methods the default at checkout.
To update your saved payment info*, go to your Payment Methods settings.

Click Add Payment Method to save a new payment method.
Click Modify to edit the details for a saved payment method. This option will only be available if the payment method can be updated.
Click Delete to remove a payment method.
*For security reasons, our advisors can't update your payment information for you.
Was this article helpful?
0% of 0 players found this article helpful.