Sometimes emails and websites look like they're officially EA, but they're actually from a third-party, nonsecure company.
EA sends emails from addresses that include "ea.com." Be cautious of any email addresses that don't use "ea.com" as the domain name.
Even if they include "ea" somewhere in the email address, make sure it's from an official subdomain.
All ea.com subdomains will lead with the subcategory, then ea.com.
Correct: www.help.ea.com
Incorrect: www.ea.help.com
If you see the domain or subdomain written in any other way, this isn't an official EA website.
Is e.ea.com an official email address?
Yes, e.ea.com is an official EA email address. Because it leads with the subcategory, then ends with ea.com, we can tell it's a legitimate address.
Phishing emails
If you receive a phishing email or message, don't panic. Your account may not have been compromised. All the phisher may have is your email address, which can be relatively easy to find.
Scammers can duplicate the images and text from an official EA email. If you receive a suspicious-looking email, check who the sender is and where the links in the email are taking you.
Names, like email addresses, are easy to get — phishers will almost always use names in emails to seem trustworthy.
Other links or elements in the email might actually take you to the real EA site, but a log in link will direct you to a fake site.
When clicking on links in emails, make sure the link is directing you to the same place that was advertised. If you want to avoid clicking the link, you can always copy and paste the hyperlink into a URL to view it.
Misleading hyperlinks and phishing sites
The official EA website uses the URL http://www.ea.com. Be aware of any links that don't use "ea.com" as the domain name. Even if they include "ea" somewhere in the URL, make sure it is from an official subdomain, just like with email addresses.
The text of a hyperlink may contain a URL that is not the URL it actually links to.
Notice how in the image below, when you hover your mouse over this link, the URL in the text box in the bottom left doesn't match the original one we've hovered over.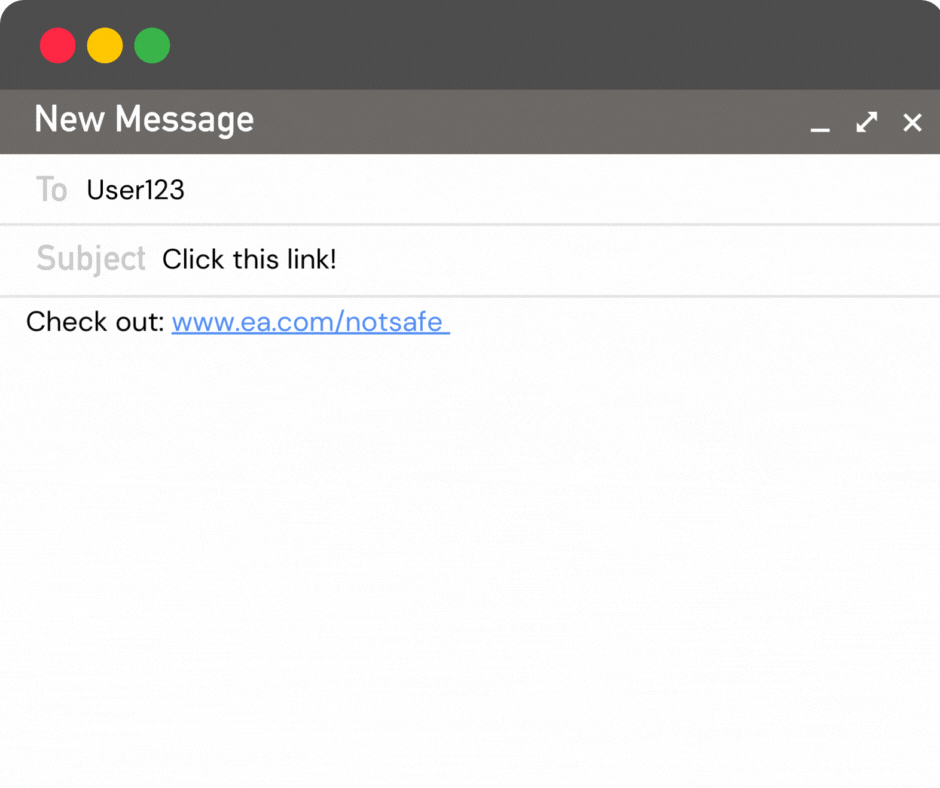 Depending on your browser, you can check links like this in the bottom of your browser or in a small text box that hovers over the link.
Make sure that any link you click leads to the place it claims it will take you.
Redirection to a fake page
Redirecting is a technique where a scammer embeds something in a link that takes you to the real site initially, but then moves you to a fake page that looks identical.
There are many examples of this, but one simple thing to look out for in any URL is the word "redirect." For example: http://www.ea.com/redirect?url=http://fakesite.com
See how it says "redirect" in the middle of the URL? This means that this link will take you away from the official EA site. We'll never redirect you from http://www.ea.com to another site.