Find out how you and your guild can work together to earn rewards in Territory Battles, the new Guild Event in STAR WARS™: Galaxy of Heroes.
If you leave your guild, or your guild merges with another one, you'll lose any rewards you haven't claimed.
Territory Battles are a new strategic game mode where you and your Guild work together, using your entire roster of units to earn rewards for everyone.
You can join in Territory Battles from player level 65.
Jump in by tapping the Guild Events icon on the Guild screen.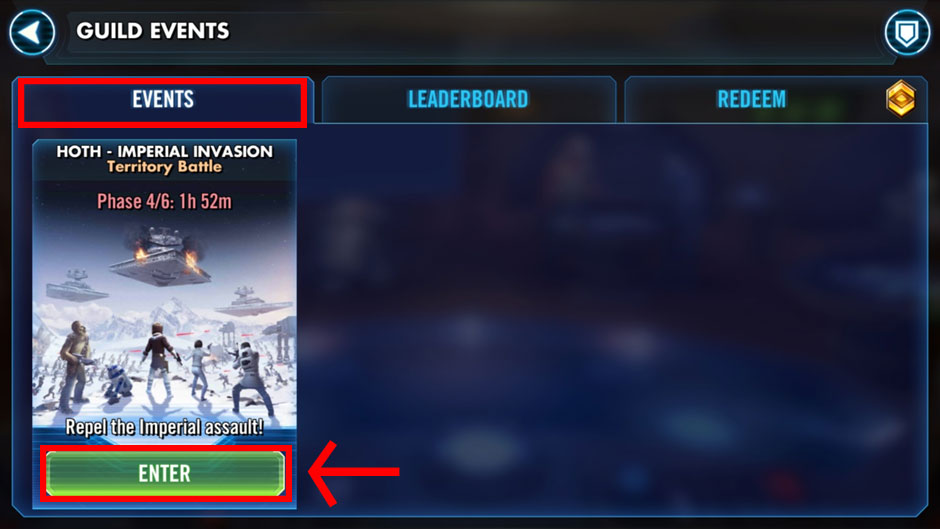 Tap Enter on Hoth – Imperial Invasion to get started.
Each Territory Battle rages over 6 days and has six 24-hour phases.
Our first Territory Battle takes place on Hoth, where a secret Rebel base has attracted the attention of Imperial forces. You and your Guild must band together to repel the Imperial onslaught and keep control of as much territory as possible.
Work with your Guild to earn enough Territory Points to win at least one star (out of a possible three) in the active Territory to move to a new Territory in the next phase.
Active Territory sectors are highlighted on the map: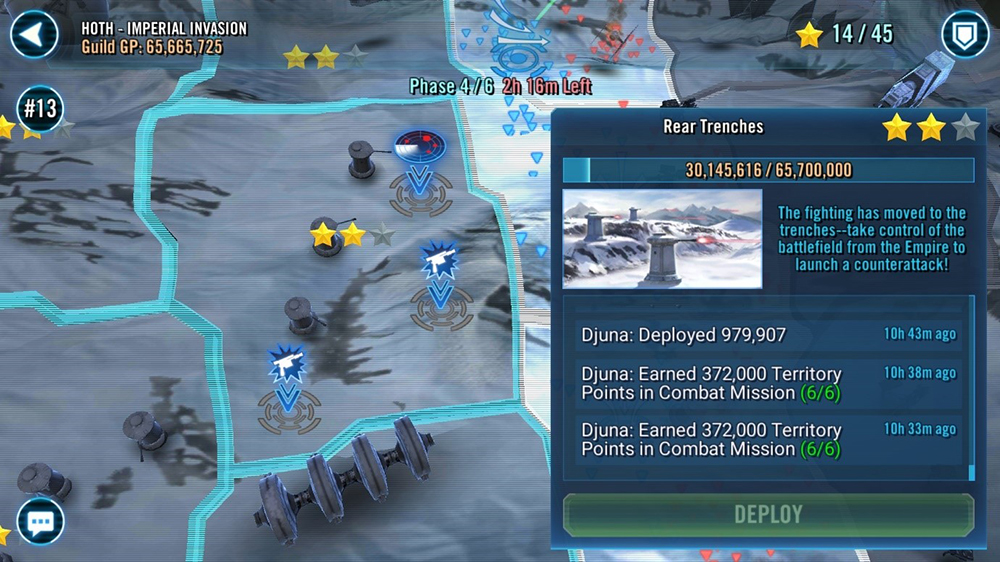 If you don't earn a star the first time, you can always try again and replay the same Territory in the next phase.
There may be more than one active sector in each phase, so make sure you check your map before you deploy all your units. Your units are reset at the end of each phase, so you can deploy them again in the next one.
At the end of the Territory Battle, we add up the total stars earned by your guild over the three days to calculate your rewards. Every Guild member who participates gets the same reward.
That means rewards coming your way three days from the start of a Territory Battle, once you take part and your Guild earns at least one star. To start with, Territory Battles will be a weekly event.
Rewards include:
Character shards for Rebel Officer Leia Organa or Captain Han Solo.

These are earned through Special Missions. They will be sent to your mailbox after the phase your Guild members earned them in.
They can also be purchased in the Guild Events Store.

Tokens for the Guild Events Store. You can spend these on Character Shards (Hermit Yoda is only available here), Ship Shards, or Gear Level XII components.

Gear Level XII items can only be equipped by 7* characters, and salvage for them is only available through Territory Battles.
Click on the Rewards tab to see which rewards match each star total.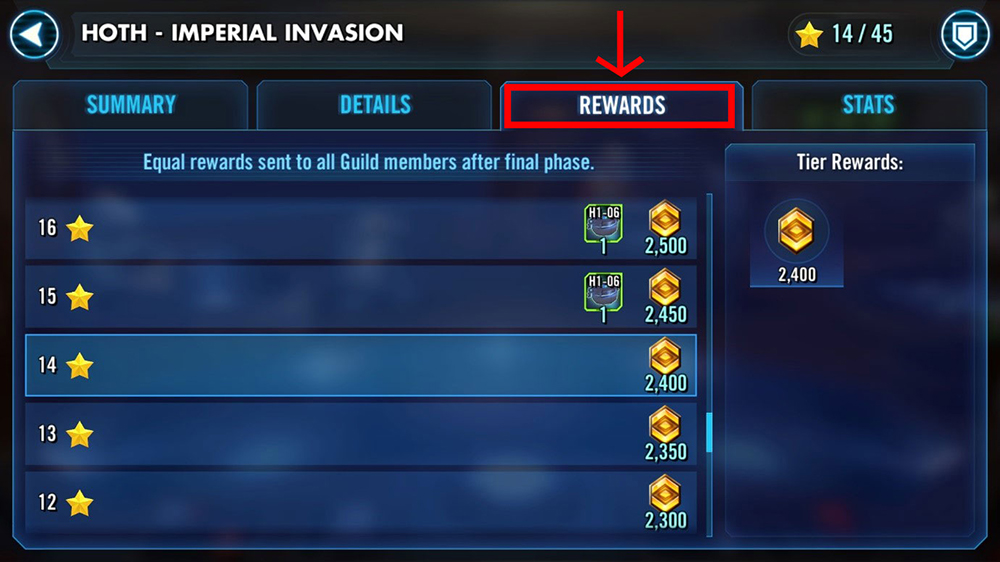 If you are in a Guild and leave it before the Territory Battle ends, you will not earn rewards for that Battle.

Yes, you do. If you're not in a Guild, you'll need to start one or join one.
Want to join a guild?
Choose one from our Recommended Guilds, or use our Guild Search tool to find a Guild.
Want to know more about Guilds?
To start a Guild, you need to have 300,000 Credits. Tap on the Guilds icon on the home screen, then the Create a Guild tab.
Choose a name, a logo and a color scheme for your guild and set membership requirements:

Open or Invite Only.
Any minimum level you want to set for members.

You can set a message there for any prospective members if you want, too.
Tap Create, and you're all set to start recruiting.
Some Guilds are open to everyone to join, and some require approval from a Guild Leader or Officer.
You can only apply to one Guild at a time.
If you're waiting for an approval, you can cancel your application if you want to try joining another Guild.
If you leave one Guild to join another, you will not earn Guild rewards for 48 hours. That includes Territory Battle, Raid, or Guild Activity rewards that other members get during that time.
Everything you do in Territory Battles, and every unit you deploy, counts towards the stars your Guild can earn.
In each phase, you and your guild have 24 hours to deploy troops, take part in ground and space combat missions, and build out Platoons to shore up your defenses or gain an offensive advantage.
Platoons
Use named units to fill out Platoons to earn Territory Points and bonus abilities for your Guild. Broad rosters really come into their own here and can give a real boost to your Guild's performance.
If you assign a unit to a Platoon, you can't use it in combat missions or deploy it elsewhere until the phase has ended.

If you deploy a unit in a different sector, or use it in a Combat Mission, you can't re-use it somewhere else either.
Combat Missions
Combat missions have a blaster icon. Use units from your roster to battle 6 waves of enemies. You get one shot at each mission, and earn Territory Points for each wave you complete.
Special Missions
Special Missions have a unique icon. Completing one of these missions earns character shards for everyone in your Guild. These shards are delivered to your inbox at the end of the phase rather than at the end of the Territory Battle.
You do not earn Territory Points for Special Missions. These missions are shorter but more difficult than Combat Missions, and you only get one attempt at them.
Pro-tips:
Guild strategy comes into play when there is more than one active sector. When there are multiple sectors, your Guild should aim to earn a star in each one so you can continue your progress across the map.
Use the Details tab to learn about your opponents in Combat and Special Missions.



Talk to your Guild in Guild Chat about strategy and where to focus your attention and units.
Check the required units for each active sector by tapping into it and looking at the Platoon and Combat or Special mission requirements. Tap outside the sector to zoom out again.
Deploy your Ships in Airspace sectors, and choose which ground units to deploy to the other active sectors.
Watch the map to see your Guild's actions update in real time. Zoom in to a sector (by tapping on it) to see a breakdown of your progress there.
To check how many Territory Points your Guildmates have earned, tap Enter on Hoth – Imperial Invasion, then tap on the Stats tab.
Here you'll find a breakdown of Territory Points Contributed, Platoon Mission Units Assigned, and Combat Mission Waves Completed. Use the arrows to switch between stats.
Points here are tallied from the start of the Territory Battle. If someone joined your guild after the battle started, or missed out on a phase, their contribution will automatically be lower.
Part of the reason behind equal rewards for all Guild members who take part in Territory Battles is to help Guilds build up and gear their units and ships together. Unlike Raids, where the player with the strongest teams gets better rewards, Territory Battles give Guilds an opportunity to work together to improve their collection and, over time, their performance in other parts of the game.
Galactic Power (GP) is a measure of the strength of your full collection of units.
Each time you train, equip gear, or add/upgrade mods on a unit you'll see an increase in your GP.
You can check how much Galactic Power you have on the Characters screen.
Your Guild's Galactic Power is the sum of the GP of all of your Guild members. You can see how much GP your Guild has on the main Guild screen, right under your Guild name.
Check how other Guilds are doing on the Territory Battle leaderboard: tap on a Guild name to compare Guild GP and see how they are progressing in Territory Battles.
Pro-tip:
Galactic Power isn't everything. A Guild that plans and communicates can do as well or better than a Guild with higher GP that relies on power over strategy.
Was this article helpful?
0% of 0 players found this article helpful.
Not what you were looking for?
Try searching again.