Caring for and evolving plants
Once you've planted the seeds, you'll need to continue to care for your plants. This includes watering, weeding, and spraying for bugs. As your Sim progresses through the gardening skill, more interactions unlock, like Talk to plant and Fertilizing. Performing these interactions will help to improve the quality of your plant.
When your plant reaches a certain quality, it can evolve. You can see what quality your plant currently is by hovering over it.
The evolution levels of a plant are Normal, Nice, Excellent, Magnificent, and Perfect. When your plant reaches the top of a level, it unlocks the Evolve interaction. You'll know a plant is ready to evolve when the sparkle animation appears around it.
Once you have the basics down, there are a few extra techniques you can use to care for your plants.
A gardener: Use the phone to hire a gardener who will plant seeds, water, weed, and spray for bugs.
Burtie's Bee Box: In the Seasons Expansion Pack, buy Burtie's Bee Box in Build Mode so bees can polinate your plants.
Patchy the Straw Man: In the Seasons Expansion Pack, buy Patchy in Build Mode. Sims can talk to Patchy and build a relationship. Once the relationship level hits Friend, Patchy will help your Sim with gardening tasks.
Sheep and mini goats: In the Horse Ranch Expansion Pack, your Sim's sheep and mini goats can help care for plants by eating the weeds and bugs around the crops.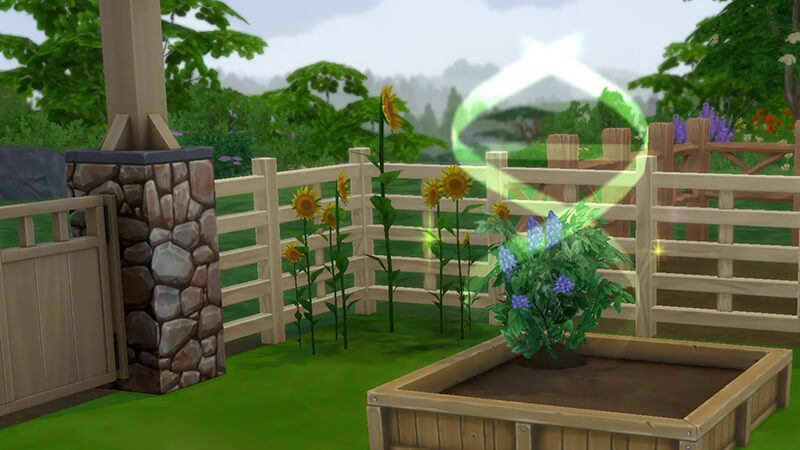 How to buy fertilizer
Fertilizing your plants in The Sims 4 is a great way to improve their quality. If you own the Cottage Living Expansion Pack, fertilizer can also help increase the size of your oversized crops. Note that you can't fertilize plants until you reach level three of the gardening skill.
Here's how to get fertilizer:
Buy it: You can purchase fertilizer the same way you buy seeds, by clicking on a grow patch or container, and selecting Purchase Fertilizer. You can also buy it at the gardening stall in the main square of Henford-on-Badgley.


Using plants in your inventory: Your Sim can also fertilize plants with produce they currently have in their inventory. For example, if they harvested lots of Spinach, you can choose this to fertilize your other plants with.


Gather it:

In the Cottage Living Expansion Pack: Your Sim will gather fertilizer when clearing out the barn after a cow or llama.
In the Horse Ranch Expansion Pack: Your Sim can gather horse manure to use as fertilizer, or ask the Ranch Hands to collect it for them.