So, you're the new addition? Let EA Help get you ready for your greatest exploit.
Download and install
Home screen
Modes
Gameplay basics
Save your game
Origin
Launch Origin.

Log in to your EA Account.

Open My Game Library.

Click the Command & Conquer Remastered Collection game tile.

Choose Download.

Steam
Sign in to Steam.

Go to your Library.

Choose Command & Conquer Remastered Collection from your games.

Click Install.

Click Next on the pop-up window to install the game.
Need more help? Check out our troubleshooting article.
After you launch the game, you'll have three options to choose from.
Command & Conquer: Remastered
Command & Conquer: Red Alert Remastered
Map Editor, where you can build your own custom maps.


On the home screen, you'll see the game modes and other options.
Start a new Campaign.

Load Game

Jump back into a previous Campaign or Skirmish save.

Choose a specific mission from the games or expansions

Go head-to-head against AI opponents or other players

Replay/Observer

Rewatch your victories or watch other players in action.

Bonus Gallery

Extra video content you unlock through the Campaign mode.

Options/Accessibility

Customize the game speed, change the screen resolution, adjust audio settings, or add your own key bindings.

This is also where you'll find your Mods. For more on Mod Support and what you'll be able to create, check out this EA article.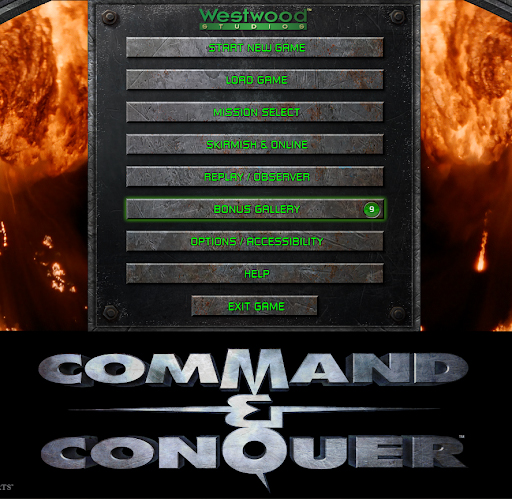 Campaign
Choose a side and play through a series of missions around the globe. Use the slider to choose the difficulty level (Casual, Normal, or Hard).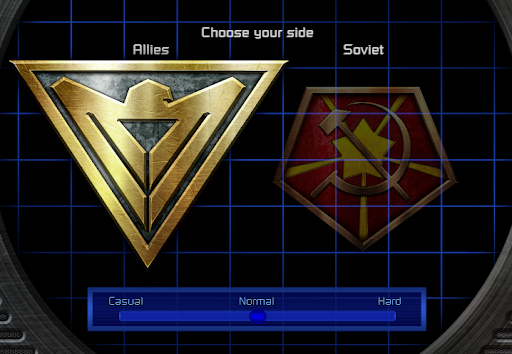 Mission Select
Use the tabs to choose specific missions from Campaigns, Covert Operations from the expansions, Console Missions, or Custom Missions using your own maps.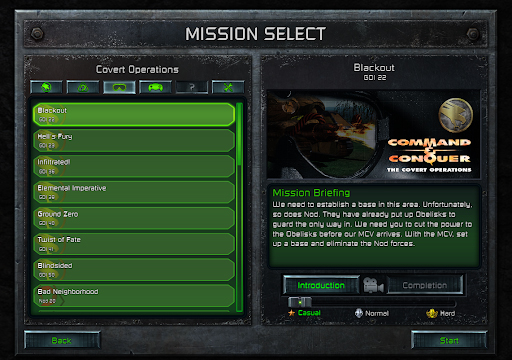 Skirmish & Online
Play against AI teams with controllable difficulty levels in Skirmish, or go up against other players in Quickmatches. Join custom game lobbies for multiplayer matches, or host your own where you can set the rules and choose the maps.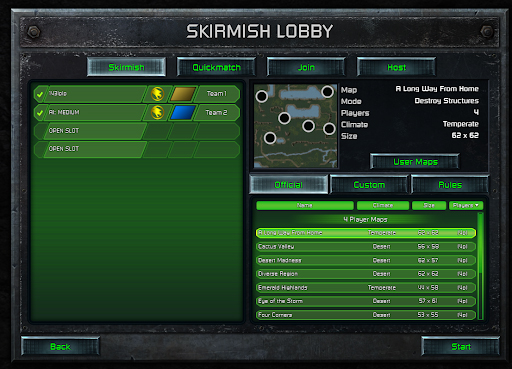 On most missions, your aim is the same—build Structures, Infantry, and Vehicles and take total control of the map by destroying the other team and all their Structures.
Building costs Credits, so you'll need a source of income. Use Harvesters to collect Tiberium and bring it to your Refinery to earn more. But remember, the other side wants that Tiberium too, so get ready to fight for it.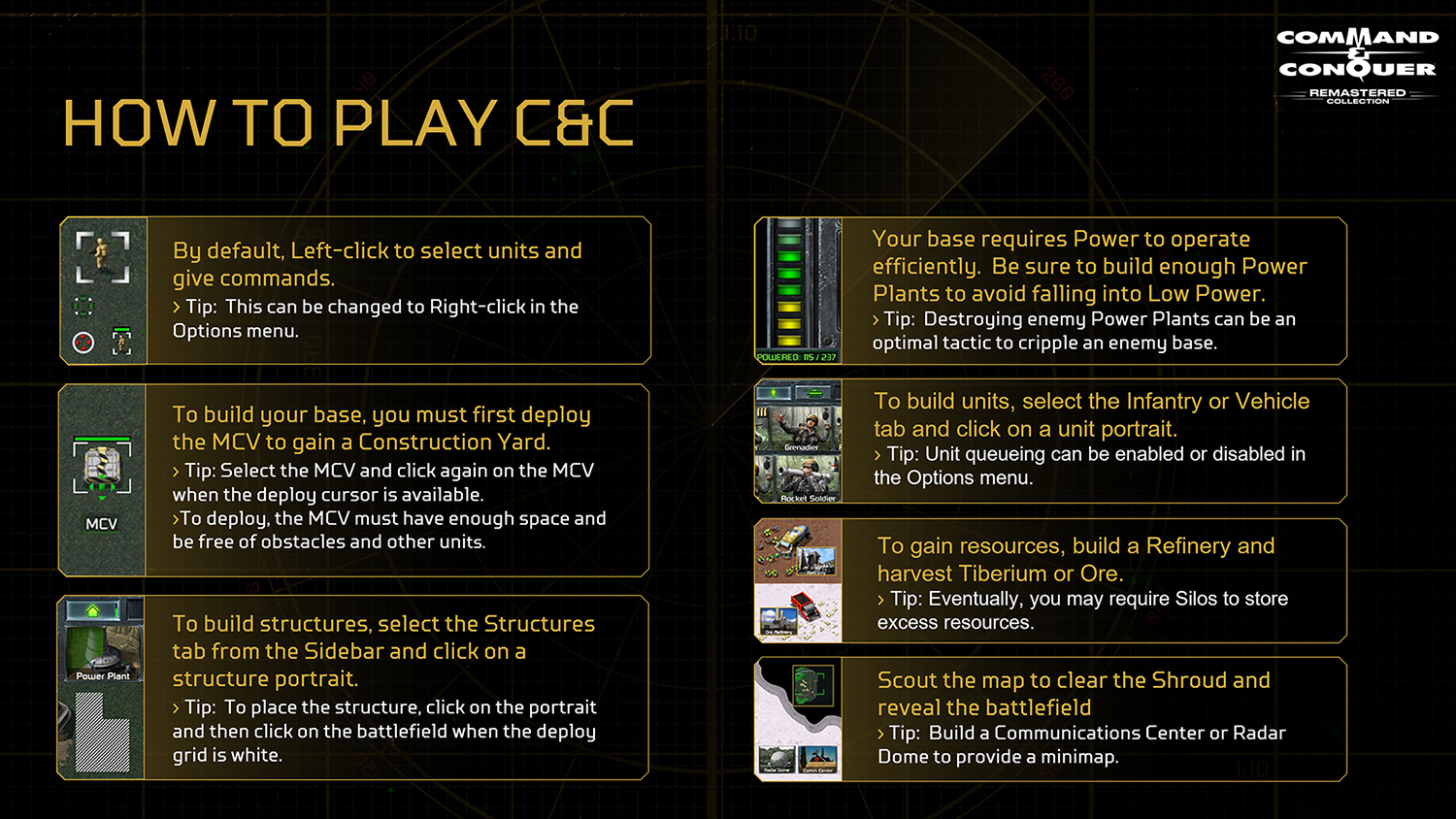 Quick tips
Left-click and drag a box to select Infantry and Vehicles, then left-click on the map to move them.
Move them into unrevealed terrain to make it visible.
To make them defend an area, select them and press G.
To defend a specific spot on the map, select them, hold CTRL and ALT and left-click that spot.
Click on an enemy to attack, or hold CTRL and left-click the map to attack an area.
Hover near the edge of the screen to move the map, or use the direction keys.
Double-click on a Mobile Construction Vehicle (MCV) to deploy it and get access to Structures.
Some Structures unlock new options for Infantry and Vehicles. For example, you'll need a Barracks to start building Infantry. Check out these diagrams to learn more:


You can only build one Structure at a time. Right-click on a Structure to put it On Hold and right-click again to cancel building it.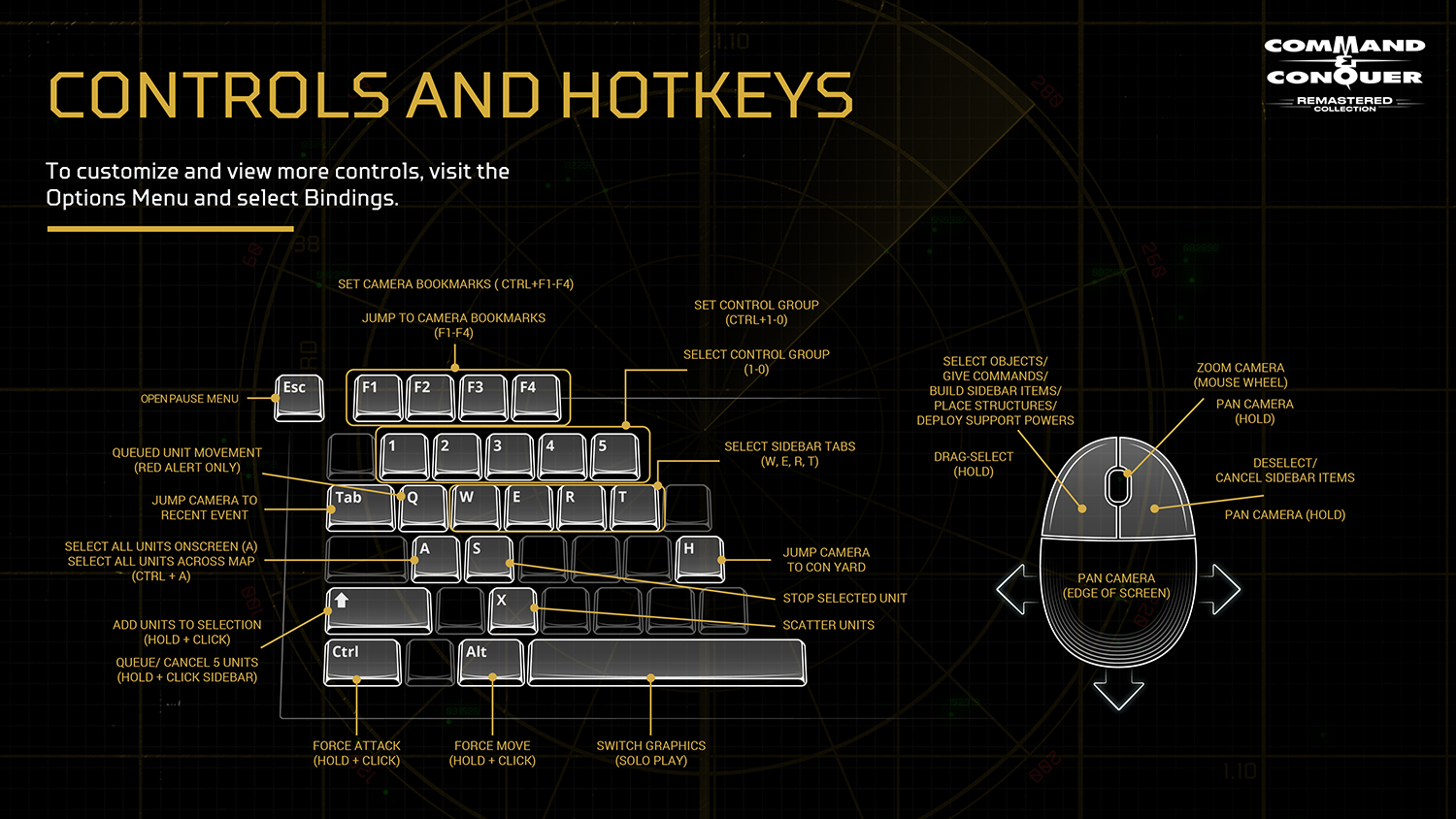 In-game sidebar
This is where you control in-game options like building Structures, Infantry, and Vehicles.
At the top, you'll see the number of Credits you have.
Click the three bars in the top right corner to get to the Options menu. This is also where you save your game in Campaign mode.



Here's what else you can see in the sidebar:
| | |
| --- | --- |
| Radar Map | After you build and deploy a Comm Center or Radar Dome, you'll get a radar view of the entire map here. |
| Toggle Repair Mode (spanner icon) | Fix damaged Structures by clicking on them. It'll cost you Credits though. Right-click anywhere on the map to toggle off. |
| Toggle Sell Mode ($ icon) | Click on Structures to sell them and get back some Credits. Right-click anywhere on the map to toggle off. |
| Toggle Radar Map (map icon) | Choose to see Infantry only, terrain only, or a mix of both. |
| Structures tab | Click on a Structure to build it. When it's ready, click on it again and click on the map where you want to deploy it. |
| Infantry tab | Build a Barracks to get access. |
| Vehicles tab | You'll need to build a Weapons Factory before you can see this tab. |
You can save your progress during a mission in Campaign mode and Skirmish mode.
Click the three bars at the top of the sidebar to open the Options menu.
Choose Save from the Options menu.
Enter a name, then click Save.


To go back to a saved game, go to the home screen and click Load Game.
Choose the mission you want to play from the list and click Load.


Contact Us
Was this article helpful?
0% of 0 players found this article helpful.